Document library
---
Pasture dieback is a poorly understood condition that causes unthrifty growth and death of otherwise very productive pastures. The condition has been identified in a range of sown and native grasses in north Queensland, Mackay-Whitsunday, central Queensland, Wide Bay-Burnett and south east Queensland regions. The condition causes large losses in beef production and is a major concern for the Queensland grazing industry. The occurrence of dieback in pastures has accelerated in recent years, however it is not a new phenomenon; dieback has been reported since the early 1990s in central Queensland buffel grass pastures.
This fact sheet covers pasture dieback in Queensland: symptoms and impact; known grass species affected; current area affected; how dieback differs from rundown; what can be done; what the Department of Agriculture and Fisheries is doing, and; contacts for producers concerned about pasture dieback.
Download a copy of Pasture dieback in Queensland (PDF, 768 KB).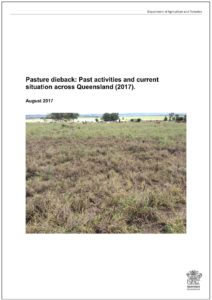 'Pasture dieback: past activities and current situation across Queensland (2017)' describes the current situation of pasture dieback across Queensland, specifically areas, locations and grass species impacted, climate, geographical and managerial impacts, and remedial management techniques being implemented.
It includes a review of published literature about pasture dieback both nationally and internationally, including findings of past and recent research and field sampling. It also provides recommendations for future research, development and extension priorities.
Author: Stuart Buck, Senior Agronomist (Sown Pastures), Department of Agriculture and Fisheries (PDF, 2MB).