Providing mineral supplementation via water — NT producer demonstration site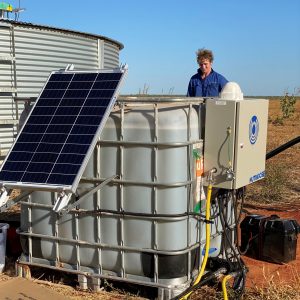 The Livestock Industries Branch, part of the Northern Territory Government's Department of Industry, Tourism and Trade, (DITT) has launched a new Producer Demonstration Site (PDS) with the support of Meat & Livestock Australia (MLA). The PDS aims to demonstrate the practical aspects of implementing water medication systems to address nutritional deficiencies at a commercial scale. Some pastoralists hold reservations about the effectiveness and safety of water medication systems and this study aims to investigate these concerns in a controlled commercial situation by monitoring the nutritional, behavioural and productivity impacts in young breeding females.
Direct Injection Technologies has partnered with DITT to demonstrate their re-engineered dosing units and re-formulated supplement concentrates making a more robust system that is able to withstand variable water quality. The dosing units now have an increased number of fail-safe mechanisms, including telemetry reporting, built into them reducing the risk of toxicity. The reformulation of supplement concentrates has meant that they are able to remain in suspension for longer in poorer quality water, and support water being medicated at the bore head rather than at the water point site, increasing the number of troughs able to be dosed from a single unit and greatly reducing the infrastructure and level of management required.
Supplementation of extensively managed beef breeding herds has beneficial production impacts by overcoming mineral deficiencies. However, traditional mineral supplements and their delivery to cow herds are often costly and time consuming. Water medication has generally been poorly adopted (with some cases of dis-adoption) as it has been considered a high-risk strategy requiring a high level of management and technical skill to maintain. Given that Northern Territory (NT) pastoral operations are increasing the number of water points and the cost effectiveness of water monitoring telemetry for reducing labour costs, water supplementation of lacking minerals, particularly phosphorus, and non-protein nitrogen, is a logical addition.
Providing supplemental phosphorus (P) to cattle during the wet season using traditional methods is difficult as paddocks are often inaccessible for weeks on end, and many P supplements are soluble in water meaning that supplements need to be kept dry or be resistant to rainfall. An alternative strategy to address this distribution problem is water medication. However, its effectiveness at providing sufficient P during the wet season in paddocks with surface water is yet to be demonstrated in a relatively controlled situation, as cattle may not regularly drink from the watering point. This study aims to use Global Positioning System collars to monitor the frequency of cattle drinking at both medicated and un-medicated watering points.
Another potential benefit of adopting water medication is that once P requirements are met, additional P can safely be provided longer into or coming out of the wet season, which may have some production benefits.
Due to the physiological necessity of cattle to drink water proportionate to their body size, water medication can uniformly supply the required minerals to meet the nutritional demands across a mob of cattle. Also, water medication is likely to address other issues related to supplementation such as shy feeders, bullying and supplement palatability.
The PDS is in the early stages of implementation in the Katherine region of the NT and will run until late 2023. As the project progresses, keep an eye out for more updates and how producers can get involved!
If you are interested in further details on this project, please email Elle Fordyce on eleanor.fordyce@nt.gov.au or phone 0456 752 319.