Burdekin graziers first off the rank with new Reef protection regulations
Graziers in the Burdekin will be the first required to meet the Queensland Government's new minimum practice agricultural standards for grazing which start on 1 December 2020.
Under the Reef protection regulations, graziers will need to take action to improve land condition and ground cover on areas of grazing land with less than 50% ground cover (measured at 30 September each year).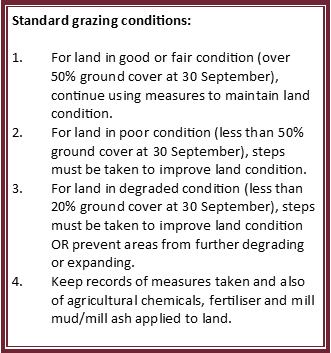 There are four standard conditions graziers must meet under the new rules, but it's up to the land manager as to what actions are taken to achieve the requirements. The standard conditions do not mandate stocking rates or a land management plan. It's also recognised that it may be impractical and cost prohibitive to fully rehabilitate some areas of very degraded land but steps must be taken to prevent these areas from further expanding or worsening.
The minimum practice agricultural standards for grazing, which aim to reduce the amount of soil and nutrients that end up in local waterways, start in the Burdekin this year. They will roll out in the Fitzroy in December 2021 and the Wet Tropics, Mackay Whitsunday and Burnett Mary in December 2022. The staged implementation is based on the priority areas for improving water quality.
However, all graziers in all Reef regions have been required to keep general records, for example agricultural chemicals applied to land, since 1 December 2019.
Help with improving land condition and ground cover is available through a number of local projects and service providers. One example is the Grazing Resilience and Sustainable Solutions (GRASS) program. This program provides graziers in the Burdekin, Fitzroy and Burnett Mary regions with one-on-one support to develop tailored land management plans to improve poor and degraded land. Under this program, graziers in these regions can also access financial incentives for infrastructure improvements such as fencing, water troughs and erosion works. The program is funded by the Queensland Government Reef Water Quality Program and is delivered by the Department of Agriculture and Fisheries, NQ Dry Tropics, Fitzroy Basin Association and the Burnett Mary Regional Group.
Another program available to eligible graziers is the Queensland Government funded Farming in Reef Catchments Scheme through which landholders can get a rebate of up to $1000 to help offset the costs of obtaining professional and agronomic advice about managing nutrient and sediment run-off. Advice must be obtained from an Accredited Agricultural Adviser registered by the Queensland Rural Industry Development Authority.
For more information about the regulations and to order an information pack, visit www.qld.gov.au/ReefRegulations.