Leucaena helps double carrying capacity and profitability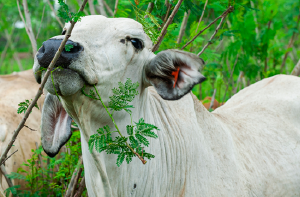 Craig Antonio on 'Borambil', Millmerran has one of the most southerly inland plantings of leucaena. Millmerran lies on the Darling Downs about 300km west of Brisbane at a latitude of 18°S, annual rainfall is 625 mm, mostly in summer.
Most of Craig's cultivated country has brigalow clay soil, on which he has planted 400 hectares of Wondergraze and Tarramba leucaena, and plans a further 1,500 hectares. He considers that the key factors in successful establishment have been meticulous seedbed preparation and post-planting weed control.
Planting
After any brigalow or grass regrowth has been removed by thorough cultivation, in September he uses a purpose-built planter to sow the leucaena in double rows 8m apart, along with fertiliser (P, S and Zn) banded along the hedgerow.
To control the mass of grass seedlings in old cropping land, Craig applies Spinnaker® pre-planting and Verdict™ post-planting – and sometimes uses tillage to control weeds in the inter-row. Craig sometimes sows oats between the establishing hedgerows during the first winter. He then sows grass in the inter-row in spring following rainfall (October/November).
Grazing
The first grazing of the leucaena is in March after the September planting, but it can take up to three years before it is fully established. Craig uses high stocking rates of 5–10 Adult Equivalents/ha in rotationally grazed leucaena pastures. This controls the height of the leucaena. He says that the cattle preferentially graze leucaena and pull down any tall branches.
Cattle on the leucaena gain 1.6 kg/day for two months and 1.3–1.4 kg/day for seven months to achieve 250 kg LWG/ha/yr. Craig says this allows him to target his market as he can forecast weight gains even over long dry spells, with shorter fattening periods than on grass-only pasture. Other benefits from the leucaena pastures include better ground cover which reduces runoff and soil loss.
Better stock and profits
Craig has three Angus breeding properties and one finishing property. His markets include feedlot steers at 400–500 kg and cull heifers to a kill weight of 500 kg with carcases reaching Meat Standards Australia (MSA), and grassfed or Angus grids if the season allows. The returns from leucaena-grass pasture is $200-250/ha/yr on old farming country, and $300/ha/yr on regrowth country.
Once the leucaena is established, production is relatively cost free, and it has doubled Craig's carrying capacity and profitability.
More information
The complete guide, Leucaena – the productive and sustainable forage legume is available for download on Meat & Livestock Australia's comprehensive leucaena hub, or click here to go straight to the publication.