Local beef producers drive Tips & Topics Day at Begonia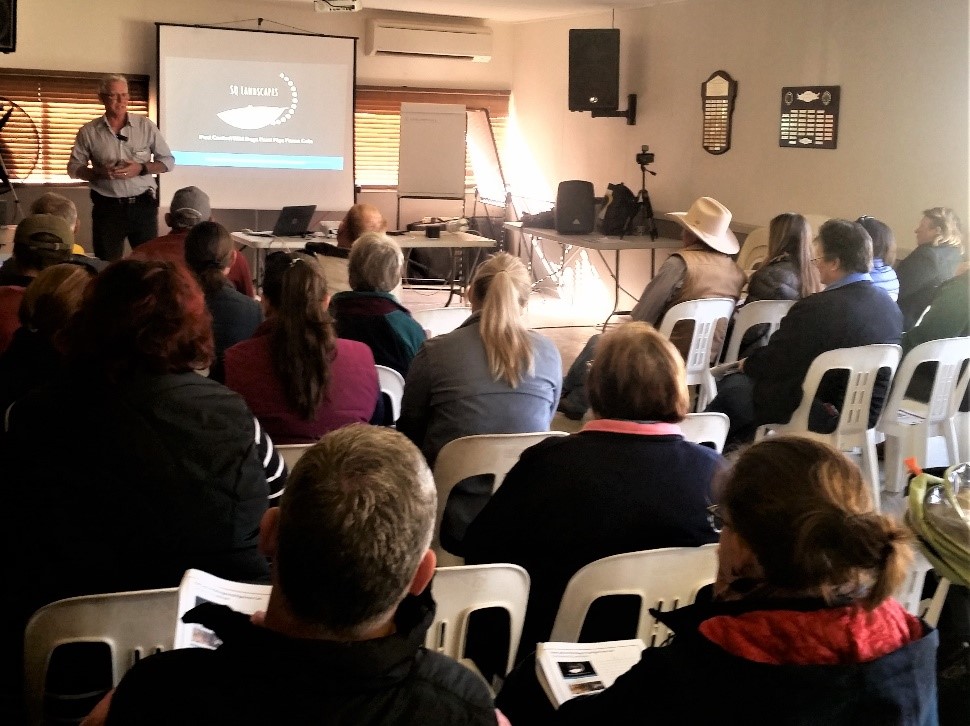 On Wednesday 17 July 2019, 28 producers and 15 service providers attended a very successful, Tips & Topics Day held at the Begonia Sports Complex, 140 km south of Mitchell.
Presentation topics were identified as a result of a survey completed by local producers prior to the event. While survey responses were encouraging and enthusiastic, two of the six most requested topics required online connectivity at a location where it wasn't currently possible.
This was not a hindrance for local beef producer and presenter at the event, Andrew Sevil of "Whyenbah", Dirranbandi, as he relayed satellite reception from the Begonia house, one kilometre away, to the Begonia Sports Complex, allowing digital connectivity on the day of the event. This in itself was a very simple demonstration of how digital connectivity can easily be established on a remote property, as Andrew has himself achieved across all of "Whyenbah".
The purpose of a "Tips & Topics Day" is stakeholder engagement. The process seeks to engage and gather producers and service providers from a wider area at a local centre to hear presentations on topics suggested by the producers themselves. By doing so, the topics presented are relevant, practical, timely and address issues of utmost concern to the audience. The event also provides the opportunity for attendees to discuss matters amongst themselves, offering the potential of peer to peer learning and discussion.
The majority of producers who attended this event were from the wider Begonia area, though some traveled from north of Roma and others from south of St George. Service providers and presenters traveled from as far away as Rockhampton, Toowoomba, Brisbane and Roma to attend the event.
Producers and service providers alike heard presentations regarding:
Drought relief assistance– Ross Ballin (DAF)
Pest control – Tom Garrett (SQ Landscapes)
Online business– Joy Taylor (Canvas Coworking)
Legume and forage options – Kylie Hopkins (DAF)
Pimelea update – Marie Vitelli (Agforce)
Digital Connectivity – Andrew Sevil (Whyenbah, Dirranbandi)
Livestock Production Assurance program – Joanna Gangemi (Integrity Systems)
Thanks must go to the Begonia Sports Club, and Michelle Freshwater for her support and diligent efforts; as it must to the travel effort put in by Kylie Hopkins, Marie Vitelli and Jo Gangemi (Integrity Systems) for attending the day.
Lunch on the day was sponsored by Statham Cheesman Roma, Elders St. George and Landmark Roma.