Getting a better handle on Phosphorus deficiency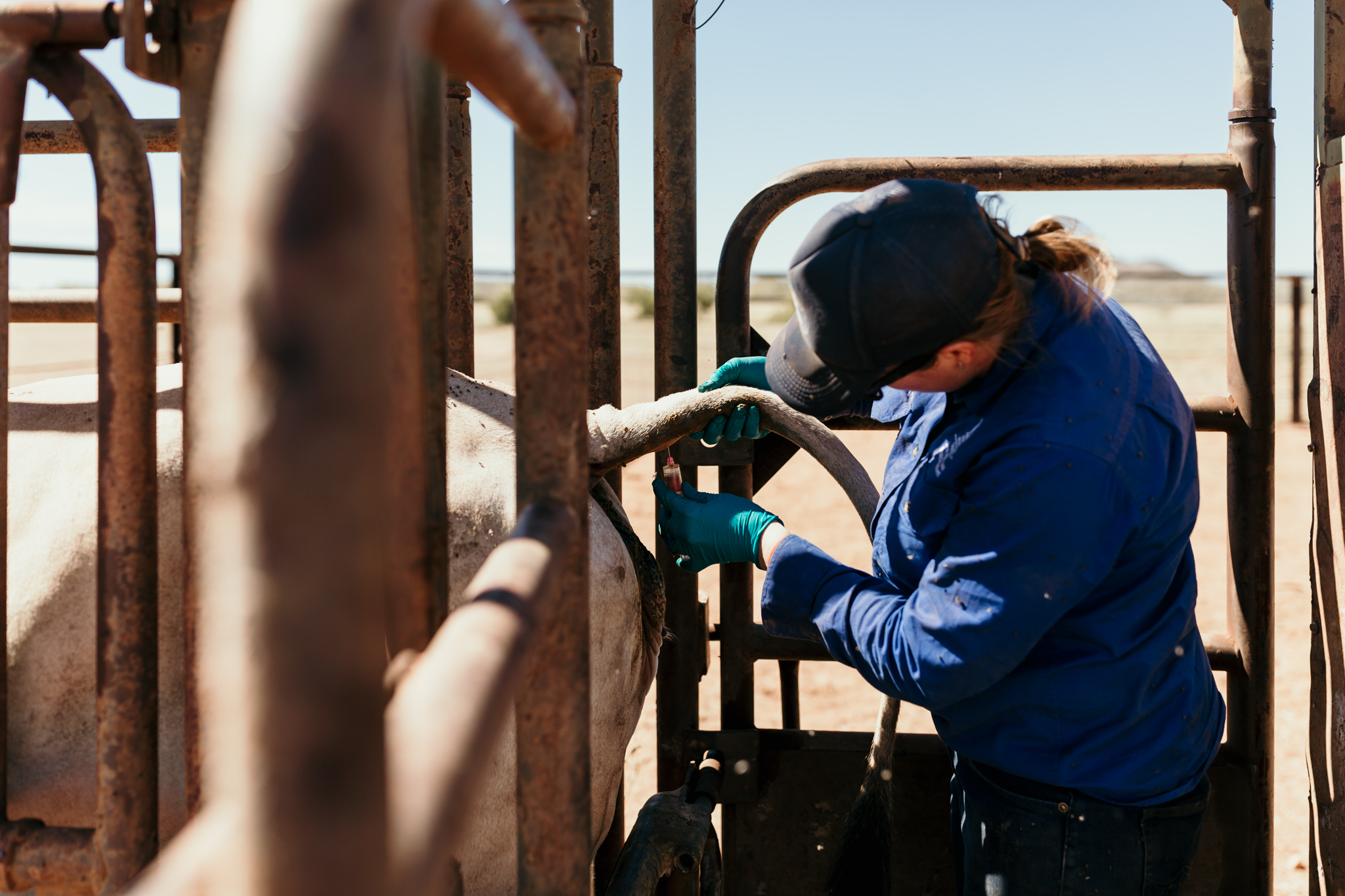 The 2020 MLA Phosphorus Challenge ran in April and May across North West Queensland to test for phosphorus (P) deficiency. Beef extension staff from the Queensland Department of Agriculture and Fisheries (DAF) collected samples across six participating properties.
COVID-19 presented some logistical challenges but DAF officers kept their distance, avoided shaking hands (very difficult in the bush) and used plenty of hand sanitiser to get the job done!
Phosphorus is essential for the growth of cattle and for lactating cows, requiring 1g P for every litre of milk produced. Deficiency is caused by low P levels in the soil and presents through poor weight gain from reduced appetite, higher mortality, lower fertility in breeders, chewing of bones or items like sticks and wire, stiff gait and in severe cases, easily broken bones or deformities.
Producers chose growing cattle or maiden heifers not currently being fed P to sample in order to identify deficiency. Blood and faecal samples were taken from 25 randomly selected animals in each mob and soil samples were collected from relevant paddocks. Collection was during first round mustering and required no extra work for the producers.
This form of testing is best used in situations where symptoms are not obvious but the land type suggests deficiency could be an issue. If symptoms are obvious in the herd, or good results are being achieved through P supplementation, this test is not necessary and supplementation should be continued. It is critical to take samples from herds while still on a rising plane of nutrition, when phosphorus will be at its optimum level so at the end of the wet season is the ideal time. Growing animals are the best indicators for P screening without the complication of lactation and older breeders stripping P from their skeleton. A small number of steers can be run as sentinels in the same paddock with breeders for testing.
Producers will receive a comprehensive analysis of their herd's results, and if deficient, beef extension staff will provide assistance to develop a cost effective supplementation strategy to meet the operation's needs. This ongoing work is facilitated by the Drought and Climate Adaptation Program funded GrazingFutures project.
With much of northern Australia recognised as deficient, there are significant economic gains to be achieved through supplementation particularly where acutely deficient. P screening in areas of concern to gain an understanding of the P status of the herd is highly recommended. For more information regarding financial returns, check out the compelling P trial run by the Northern Territory's Department of Primary Industries and Resources at Kidman Springs.
In its second year, the MLA Phosphorus Challenge has helped rule out deficiency in some areas, providing a significant saving in unneeded supplementation and has confirmed the expense in other areas. While COVID-19 has slowed the wheels of the world, the work to help producers improve their productivity continues in the north west and further afield. If you are interested in P screening, please get in touch with your local beef extension officer.