Pinnarendi Redlands vs Wondergraze leucaena liveweight gain trial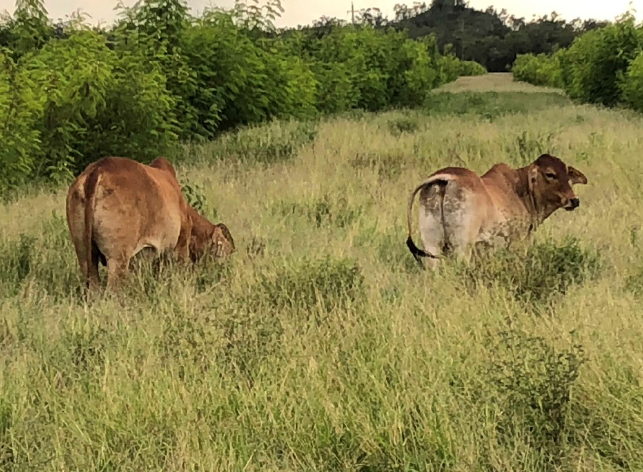 Leucaena is a legume fodder crop that provides high quality feed for ruminant animals that boosts liveweight gain, both per animal and per hectare, compared to grass-only pastures. However the adoption of leucaena in the northern Australian beef industry has been slow partly due to the prevalence of leucaena psyllid (Hetreropsylla cubana). Recently, a new variety of psyllid resistant leucaena called Redlands has been developed, presenting a significant opportunity for the northern Australian beef industry. From 2016 to 2018 a large scale trial was established at Pinnarendi Station near Mt Garnet to measure liveweight gains (LWG) of cattle grazing the new Redlands variety, compared to the conventional, and psyllid susceptible, Wondergraze variety.
The 61 ha trial site was split into eight replicated paddocks (four planted with the new Redlands variety and four planted with Wondergraze).  The leucaena was planted at 10 m row spacing with the existing inter-row pasture retained (mainly Wynn cassia, native and introduced grasses and Seca stylo). Weaner steers from Pinnarendi averaging 208 kg where placed into the trial in mid-April 2018 and another mob of steers averaging 207 kg were added in late June from the Department of Agriculture and Fisheries' Spyglass Beef Research Facility. The 28 steers were evenly split into four groups and were grazed continually in the trial from June 2018 to May 2019. In April 2019, 26 more steers were added to the trial—14 head to the leucaena treatments and 12 head into an adjoining 25 ha paddock containing buffel and stylo.  The buffel paddock will be used as a comparison to the cattle in the leucaena paddocks.
Results
Over the 319 days to 13th May 2019, the average daily gain for all animals across both varieties was 0.69 kg. There was no significant difference between variety or the source of cattle. There was very little psyllid pressure during the first year of grazing and no significant damage to Wondergraze at the site. Annual LWG for cattle grazing on the leucaena should be close to 250 kg/head which is more than double typical LWG for cattle grazing native pastures in the same environment.
Average daily liveweight gains at Pinnarendi Leucaena trials (2018 – 2019)
Grazing period
Average daily gain (kg liveweight)
All
Wondergraze
Redlands
28 June to 7 August (40 days)
0.5
0.53
0.47
7 August to 20 September (44 days)
0.38
0.43
0.32
20 September to 8 November (49 days)
0.15
0.12
0.18
8 November to 19 December (41 days)
0.4
0.44
0.35
19 December to 5 March (76 days)
1.51
1.46
1.56
5 March to 1 April (247 days)
0.73
0.78
0.69
1 April to 13 May (42 days)
0.64
0.7
0.58
Overall (319 days)
0.69
0.71
0.68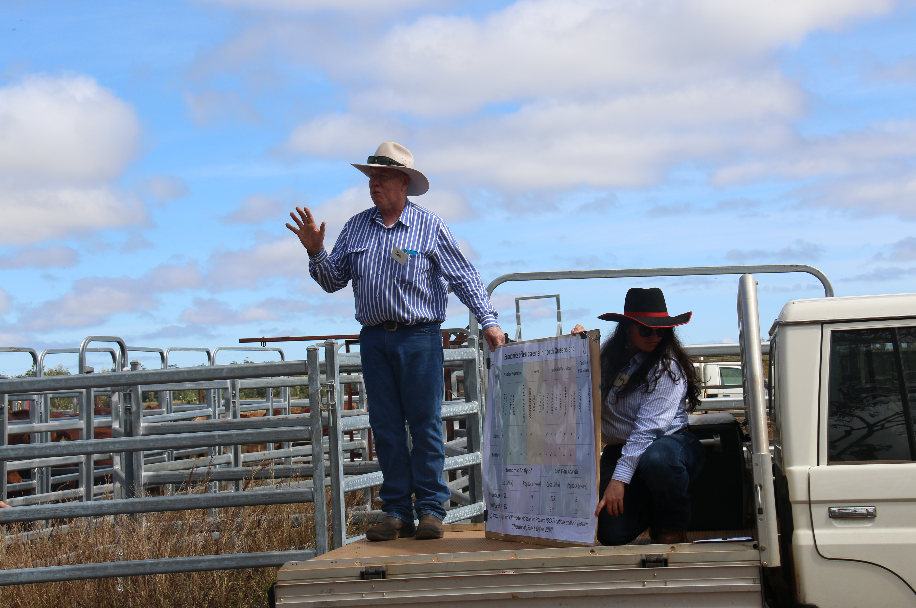 On Tuesday, 28 May, Meat and Livestock Australia, Department of Agriculture and Fisheries, the Leucaena Network and the University of Queensland hosted a field day with producers at Pinnarendi to share of the initial results from the grazing trial and launch the Redlands variety to industry. Over 70 beef producers and industry representatives attended. It was a successful day with some great comments from people that attended.
Some producers with cleared country said "We are really excited about the potential Redlands will provide for our property'." Another producer from the Wet Tropical Coast said "We are excited to give Redlands a try and see the benefits it has on our business."