BREEDPLAN explained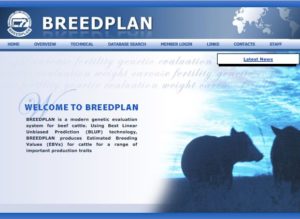 BREEDPLAN is a system of genetic evaluation of beef cattle developed by the Animal Genetics & Breeding Unit (AGBU) with the BREEDPLAN technology licenced to the Agricultural Business Research Institute (ABRI), both of which are located at the University of New England, Armidale, New South Wales. It is recognised as the most advanced system of genetic evaluation in the world and is now used by over 30 breed associations in Australia as well as in the USA, Canada, UK, New Zealand and Argentina.
BREEDPLAN produces Estimated Breeding Values (EBVs) for a range of important production traits such as weight, carcass and fertility. EBVs are estimates of an animal's true breeding value, defined as its genetic merit for each trait. EBVs are expressed as the difference between an individual animal's genetics and the genetic base (a historic group of animals) to which it is being compared. EBVs take into account not only the animal's own performance, but also the performance of all its recorded relatives, including progeny, as well as the relationships between traits. For more detailed information on EBVs and the various individual EBVs available, see BREEDPLAN EBVs.
BREEDPLAN can be used for:
within-herd analyses (compare and rank all animals within a herd) for individual breeds
across-herd analyses (compare all animals across participating herds) for members of a breed association (GROUP BREEDPLAN)
international genetic evaluation where breed associations from a number of countries pool their data for analysis.
How do I join BREEDPLAN?
The first step is to complete a BREEDPLAN enrolment form, available here or you can get it from your relevant Breed Society. A membership fee is also required, with the schedule of fees for each breed found here. Also factor in the cost of collecting the performance data on your animals such as the labour and equipment required to record cattle weights and hiring ultrasound technicians for carcase scan measurements. Although a number of performance traits do not require any equipment as they are either subjective scores or based on joining data submitted to BREEDPLAN such as Calving Ease, Days to Calving etc.
Once your enrolment has been processed by BREEDPLAN you will receive an enrolment kit which includes everything you need to start performance recording your herd.
What can I expect from my BREEDPLAN membership?
Receive a BREEDPLAN report for your herd, which includes EBVs for your sires, dams and their progeny. If you record with a Breed Society that conducts a GROUP BREEDPLAN genetic evaluation this report will also contain genetic trends for your herd benchmarked against the breed average.
Effective identification of animals within your herd that have the best genetic package for both yourself and your bull buying clients. This will enable you to identify and select against the normal trait antagonisms, for example increase growth and muscling, while maintaining or increasing fat cover.
Monitor the genetic progress of your herd across a range of economically important traits. Allowing you to identify how your animal selections are impacting on your herd's genetic progress across a range of traits.
Access to other genetic tools to assist your selection and genetic progress such as Mating Predictor, TakeStock and Online EBV relation functions (eg EBV enquiry or sale catalogues with EBVs displayed).
How to start performance recording with BREEDPLAN
Once enrolled in BREEDPLAN, the next step is to register all of your sires, dams and calves with your Breed Society, including transferring ownership of animals that you have purchased from other studs into your membership. This is because BREEDPLAN uses both pedigree and performance information to calculate EBVs and uses the same database as the Breed Society running the genetic evaluation. Therefore individual animals are only eligible to be included in the BREEDPLAN genetic analysis if they are firstly recorded on the Breed Society database. Once your herd is registered you can then start submitting performance data to BREEDPLAN.
What performance data you record and submit is entirely up to you. No minimum or maximum level applies on how much performance data you can record. However, in order to receive EBVs an individual animal must have either its own performance data or the performance data of its progeny recorded with BREEDPLAN. You should aim to record performance data on the most important traits for your breeding program, as well as your client's needs, and consequently for which you would like EBVs calculated.
There are a number of options for submitting performance data to BREEDPLAN:
paper based – forms are mailed to you with completed forms then returned by post
excel spreadsheet – template is available from BREEDPLAN or your Breed Society
compatible herd recording programs such as HerdMaster, StockBook, CattleLink
online – available with most Breed Societies.
(Please note BREEDPLAN does offer within-herd genetic evaluation services to producers who do not performance record with a Breed Society, contact BREEDPLAN for further information).
Adapted from 'A Basic Guide to Getting Started with BREEDPLAN' and 'BREEDPLAN a Modern Genetic Evaluation System for Beef Cattle' .
Further information
BREEDPLAN
Website: www.breedplan.une.edu.au
Ph: (02) 6773 3555
Email: breedplan@abri.une.edu.au
Tropical Beef Technology Services
Website: www.tbts.une.edu.au
Ph: (07) 4927 6066
Email: office@tbts.une.edu.au