Drought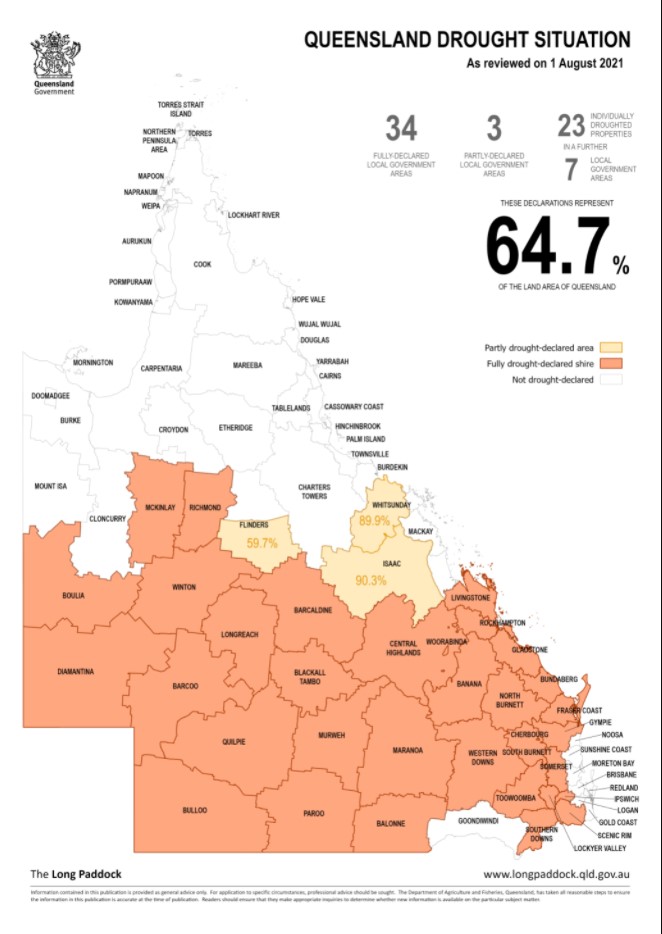 Over 60% of Queensland remains drought-declared, as reviewed at 1 August 2021. Currently there are 34 entire local government areas and three part local government areas meeting the drought declared criteria, with 23 Individually Droughted Properties in a further eleven local government areas.
We've put together some practical information to help you manage your way through dry seasons.
The Queensland drought situation report and map and seasonal outlooks can be found on The Long Paddock website.
On this page:
Queensland Government drought services
The Department of Agriculture and Fisheries (DAF) helps primary producers manage their business by offering a range of services including financial assistance, livestock nutrition and animal welfare information and business management strategies.
Drought relief assistance
When you have been drought declared, the Queensland Government offers assistance to affected primary producers through the drought assistance package.
The Drought Relief Assistance Scheme is available to primary producers in the grazing industries to manage their livestock resource during drought and to help restore their livestock resource post drought.
You will find information about:
Other assistance
Other organisations and government departments may offer assistance, rebates and loans to support primary producers in managing drought situations include:
Other services
There are government, social and community based services that provide assistance for families suffering from the emotional and physical fallout of drought. You can contact the DAF Customer Call Centre 13 25 23 for referral to your local support services.
Resources
MLA, DAF and FutureBeef have resources to help you to manage drought and tough times.
You will find information on feeding and managing livestock during drought, beef cattle nutrition including supplementation and crisis feeding, software packages to evaluate your options and assist in decision making and strategies to help you cope with stress.
You can click on the image to download a copy of 'Dry season management of a beef business'.
To lodge Drought Relief Assistance Scheme (DRAS) applications, please send them to:
Drought Relief Assistance Scheme
Department of Agriculture and Fisheries
Level 6, GPO Box 46, Brisbane Qld 4001
To lodge an Individually Droughted Property (IDP) application, contact your regional Climate Risk Coordinator.
AgForce
AgForce Queensland has compiled this practical directory of Drought information and assistance (PDF 93 KB).
If you encounter problems with any of the contact details provided or know of other useful sources of assistance, please contact Tahna Jackson, AgForce Queensland T: 07 3236 3100 E: jacksont@agforceqld.org.au
T: 13 25 23 (cost of a local call within Queensland) or 07 3404 6999 F: 07 3404 6900 E: callweb@daf.qld.gov.au
Australian Government services
The National drought program reform package announced by the Australian Government in the 2013-2014 Budget will help primary producers focus on risk management and preparedness. The Farm Household Allowance is available to support farming families in hardship. Farm families and businesses in drought-affected areas have access to a range of assistance measures including:
Bureau of Meteorology climate and water outlooks
The climate and water outlook video covers rainfall, streamflow and temperature for the next three months. For more detailed climate summaries, visit the BOM website.
Protecting your most important asset – You!
'Protecting your greatest asset – YOU' is a short talk designed to assist people affected by drought, although it is applicable to anyone who is 'doing it tough'. The talk offers some self-help strategies to take care of yourself and others. It also gives some guidelines on when to seek additional help, and where to go for that help. 20:03 minutes published 29 July 2014 by FutureBeefAu.
Decisions for drought affected producers
Nearly two-thirds of Queensland drought declared and we are potentially facing another drier than average wet season. The few patchy rainfall events have brought limited relief to areas desperately needing it. With stored soil moisture low, significant frequent rainfall events will be required over the coming season to produce useful pasture growth, so it's timely to review and critically reflect on drought action plans and develop a way forward. In this webinar recording, FutureBeef senior extension officer Roger Sneath discusses:
the current situation and the year ahead: developing forage budgets, adjusting cattle numbers and long term planning
options and tools: sell, agist, feedlot, production or survival feeding, and spreadsheets available to help decide the best one for your situation
feed supplies: availability, cost and how to cost nutrients
producers' reflections on drought.
For your convenience, here are the presentation slides (PDF 2.19 MB) and a list of useful links (PDF 215 kB). 50:55 minutes published 28 February 2014 by FutureBeefAu.
Drought and the breeder
In this presentation Dr Geoffry Fordyce (Queensland Alliance for Agriculture and Food Innovation) discusses the new concepts for measuring breeder productivity, with insights from the recent Cash Cow project and their application to seasonal breeder management. 28:28 minutes published 18 March 2014 by FutureBeefAu.
Will it rain this year?
Much of Queensland and other areas across northern Australia missed out on a wet season last year. Half of Queensland is now drought declared. So the question on everyone's lips is "Will it rain this year?". In this presentation, we will explore the variability of our climate – particularly rainfall (droughts and floods). It will also look at the use and relevance of seasonal forecasts and some tools to aid in decision making. While it will focus on Queensland, it will also cover New South Wales, Victoria and the Northern Territory too.
In this webinar you will learn about:
an overview of our climate
the main drivers of our climate at different timescales
the variability of our climate particularly rainfall (droughts and floods)
the use and relevance of seasonal forecasts
case studies using seasonal forecasts
some tools to aid in decision making.
Hear from Dave McRae, a well-known climate commentator from the Queensland Government, with hosts Jon Condon (Beef Central) and John James (FutureBeef). For your convenience, here are the webinar presentation slides (PDF 1.7 MB). 56:40 minutes published 17 September 2013 by FutureBeefAu.
Producer case study