Live export
The live export market is the major outlet for stock in northern Australia. The importance of the live cattle trade to northern Australia has increased over time, with over 75% of properties reported to be partially or completely reliant on live cattle receipts (ABARE 2007).
The process – from paddock to plate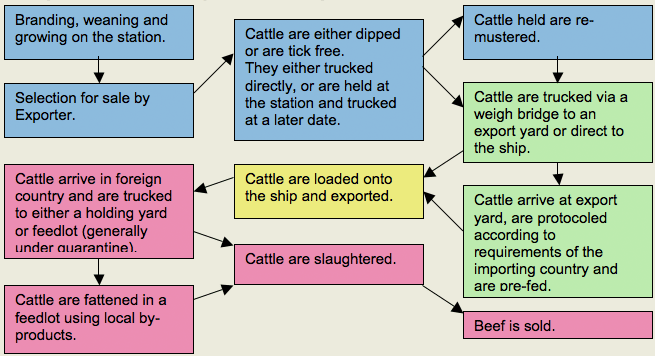 Where Australian live export cattle are shipped to
In 2015, a total of 1,377,392 head of Australian cattle were exported to these markets (Australian Bureau of Statistics 2015).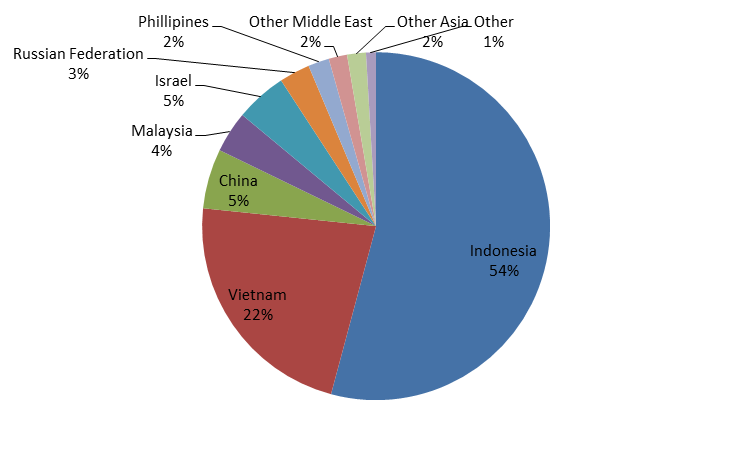 Export standards and market specifications
Producers, stock agents and exporters all have a duty-of-care when preparing stock for live export. Ensuring stock meet 'Australian standards for the export of livestock' is a requirement. An example of current standards include, but are not limited to: emaciated or over fat animals are not permitted for export, blindness, nasal discharge and Cutaneous myiasis (flystrike), visible external parasites, lactating animals (in most instances), diarrhoea, bloat, abnormal behaviour, discharging wounds or abscesses and untipped sharp horns. The 'Australian standards for the export of livestock' are available at the Department of Agriculture, Water and Environment.
Market specifications for feeder cattle going to Indonesia
Weigh between 260–350kg
Brahman or Droughtmaster type
Steers, young bulls, spayed or PTE females
Market specifications for slaughter cattle going to Egypt
Males only
Weigh between 350–550kg
Brahman or Droughtmaster type
Four teeth or less
More information
Links
Reference
Australian Bureau of Agriculture and Resource Economics (ABARE), 2007, Live Cattle Export Trade: Importance to Northern and Southern Australian Beef Industries, Canberra, Prepared by Peter Martin, Thuy Can Mellor and Stephen Hooper.