Summer Beef Updates are online!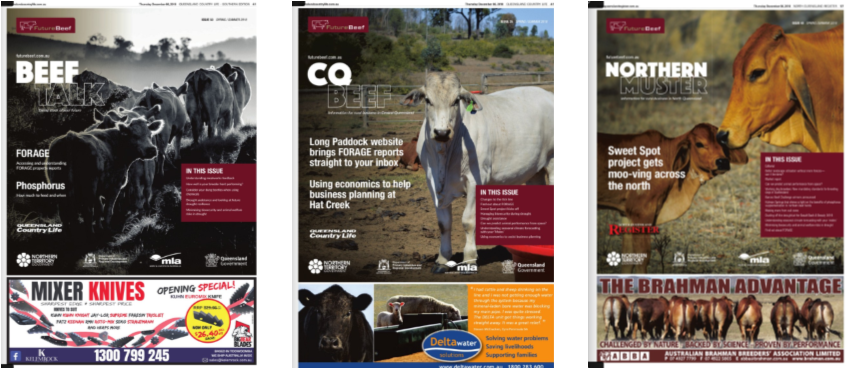 Whether you are chasing Beeftalk, CQ BEEF or Northern Muster, an electronic version of the Summer 2018-19 Issues can be found here.
Beeftalk is prepared for south east and southern Queensland producers and is distributed quarterly through the Queensland Country Life.
In the Summer 2018-19 issue there is information about:
Accessing and understanding FORAGE reports
Phosphorus: how much to feed and when
Understanding meatworks feedback
Analysing breeder herd performance
Dung beetles and chemicals
Drought assistance and looking at future drought resilience
Biosecurity and animal welfare risks in drought
CQ BEEF is collaborated with producers, agribusiness personnel, staff from industry and natural resource management organisations, in mind. It provides information on livestock, land and business management through quarterly distribution in the Queensland Country Life.
In the Summer 2018-19 issue, there are articles regarding:
FORAGE reports straight to your inbox
Economics to help business planning
Sweet Spot
Biosecurity during drought
Drought assistance
Can we predict animal performance from space
Seasonal climate forecasting with your 'Mates'
The Northern Muster captures the information needs of northern and western Queensland beef producers. Produced three times a year, this publication has a circulation of more than 5,000 through the North Queensland Register.
In the Summer 2018-19 issue of the Northern Muster, you can read about:
Better landscape utilisation without fences
Market report
Predicting animal performance from space
New standards for working dog breeders
Barcoo Beef Challenge winners announced
Phosphorus supplementation at Kidman Springs
Making more from cull cows
Basalt Bash & Beauty 2018
Seasonal climate forecasting with your 'mates'
Minimising biosecurity during drought
Find out about FORAGE
Access to previous issues of these publications and other other regional newsletters, can also be found in our Industry Newsletter archive.