The countdown is on for Beef 2021 Rockhampton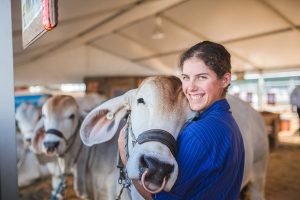 The countdown is on for the triennial Beef Australia event in Rockhampton, of which the Queensland Government is proud to be a principal partner.
From 2–8 May Australia's cattlemen and women will bring their top stock to Queensland in a staggering display of over 4000 cattle from more than 30 breeds.
If you are heading to Rocky for the event then make sure you come and have a yarn with us, we'll be in the Sidney Kidman pavilion and the Tech Yards with our experienced beef team.
We'll be discussing contemporary issues, including how to build resilience to drought and adapt to climate to remain profitable, strategies to help manage degraded land, new legume varieties for grass-fed beef and our latest research in pasture dieback.
If you have any questions around farm biosecurity including traceability or registration, then our biosecurity officers will be doing a Q and A session in our pop-up speaking area.
Pop-up talks will be running on the hour each day in the Sidney Kidman pavilion, giving you a unique opportunity to come and have a yarn and ask questions on a range of topics affecting you and your property. A full list of speakers, topics and times will be available at the event so make sure you grab a copy.
For the first time, Beef 2021 will include an ag tech and innovation area in the Tech Yards, featuring a curated display of market-ready and emerging technology used in the beef supply chain. This will be a first look at the technological advances currently in development to help with long-term agribusiness planning. There will be trade fair booths, demonstration spaces and producer-led discussions.
Make sure you visit the Queensland Government booth, located next to Microsoft. We will be showcasing our innovative research and technology such as multi-spectral imagery that provides an accurate assessment of animal health, and apps that have been developed as grazing land management support tools. Our expert staff will be holding workshops every two hours to help you start your journey into innovative ag tech and research. A daily schedule will be available, so you don't miss out.
To purchase tickets to Beef 2021 or check the program, head to beefaustralia.com.au.