Collaborating on calf loss research at McKinlay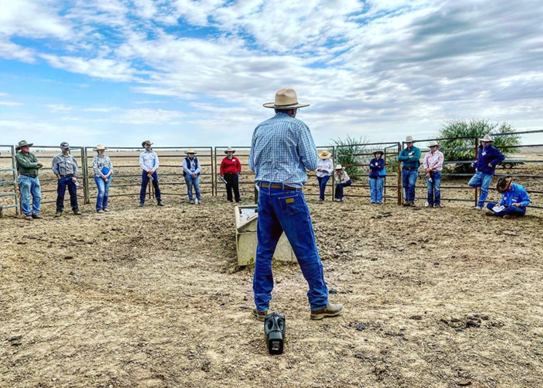 Producers, industry and interstate government departments came together to discuss recent research and practical prevention strategies of calf loss on the downs near McKinlay on 8 October.
Hannah Brodie and Lachlan Smith, NextGen producers at Redland Park near McKinlay, were keen to host a calf health specific day that combined the recent research on the topic with some practical strategies on-farm.
Department of Agriculture and Fisheries' (DAF) north west beef extension team organised subject specialists from the Northern Territory's Department of Industry, Tourism and Trade, the Queensland Alliance for Agriculture and Food Innovation and DAF's Charters Towers office, to discuss recent research into improving calf survival. This included updates on the effect of the quality of nutrition of late-pregnant cows and milk delivery, effect of shade structures on calf loss, remote birth notification technology and a fresh look at the CashCow data (an project that examined calf survival rates published in 2014).
Redland Park is also one of the region's two Smart Farms through the E-Beef project using walk-over-weighing technology to improve on-farm decision making.
Feedback from the day was very positive and there was also a great social outcome with a BBQ to conclude the day and a few cold drinks at the Walkabout Creek Hotel.
The event catering was provided by the Crafty Old School House members through "Sisters of the North", a charity formed post flood 2019, focused on encouraging "connection, community and empowerment as a means of developing resilience against adversity".
This event was supported through the GrazingFutures project, an initiative of the Queensland Government to enhance resilience in grazing business'.