Blood testing and land type mapping leads to cost-effective P supplementation
When Rob and Ainsley McArthur of Mystery Park, St Lawrence,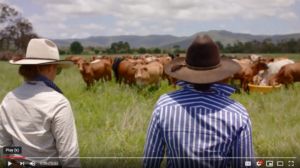 decided to investigate the probable cause of their herds' lower than expected productivity, they turned to Department of Agriculture and Fisheries (DAF) for land type mapping and access to blood testing of the animals in their herd. Upon receiving the test results, and in consultation with DAF extension officers, Rob and Ainsley developed a cost-effective strategic phosphorus supplementation program that would accommodate the needs of their herd running on varied land and soil types.
Confidence in the gains to be made by participating in such a supplementation program were high due to the findings of the economic analyses conducted in the Delivering integrated production and economic knowledge and skills to improve drought management outcomes for grazing enterprises project. This project has shown substantial economic benefits of phosphorus supplementation in phosphorus-deficient land types. Information regarding the increase in business profitability from effective supplementation for a number of regions and levels of phosphorus deficiency are available from this project.
Since implementing the strategic supplementation program, Rob and Ainsley have noticed an increase in body condition score, an improvement in conception rates and better growth rates in their young cattle.
To find out more, watch this short clip featuring DAF Extension Officers, Kylie Hopkins and Mick Sullivan, as well as Rob and Ainsley McArthur:  Managing phosphorus supplementation (6 minutes).