$ensible $upplementation workshops customised for the Mulga Lands
In late April, Kylie Hopkins (Rockhampton), Mick Sullivan (Rockhampton) and Caitlyn Frazer (Charleville) from the Department of Agriculture and Fisheries (DAF) beef extension team delivered a series of $ensible $upplementation workshops throughout the Mulga Lands in South West Queensland for GrazingFutures. Ray Murphy, an experienced DAF Agricultural economist, joined the beef extension team for the event as he will be working with the GrazingFutures team to provide economic support to producers in the future.
The workshops, adapted from the those delivered in Central Queensland, presented an overview of cattle nutrition, detailed the importance of maintaining breeder body condition, discussed cost-effective supplementation strategies and provided herd health information. The workshop was adapted to suit the specific challenges of cattle grazing mulga (Acacia aneura), including:
protein availability
sulphur (S) deficiency
phosphorus (P) deficiency.
Nutritional management during the dry season in the Mulga Lands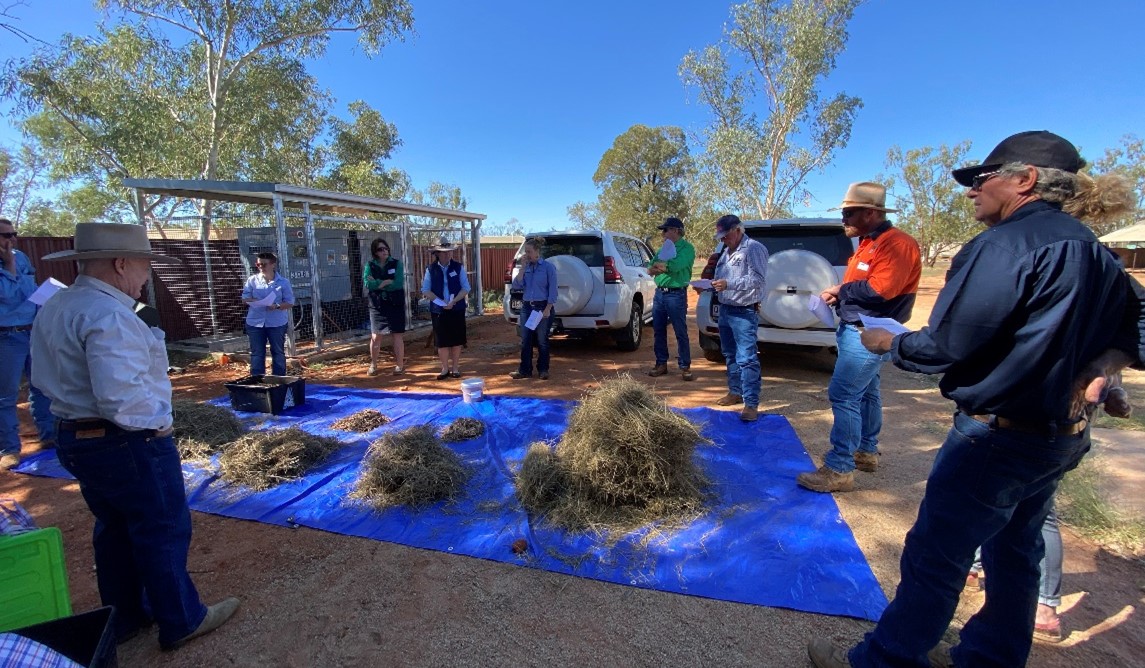 The management of breeders in the dry season is critical to maintaining productivity in the herd. The 'pile of grass' activity that Kylie and Caitlyn conducted, demonstrated how much dry season grass and mulga a cow could eat versus how much she actually needed to eat if she was to meet her energy requirements. The activity provided a talking point for topics such as early weaning, time of calving, pregnancy testing and foetal ageing, and the cost-effectiveness of supplements.
Mulga has a crude protein level of 10-14%. However, only 30-40% of this protein is available to the animal due to condensed tannins within the leaf. This makes mulga about the same quality as dry season grass. Kylie spoke about the importance of supplementing cattle with either urea or Gran-Am in the early dry season to address the protein shortfall in the diet.
A key message was ensuring that cattle have access to a body of dry feed when being supplemented with urea or Gran Am, as these supplements assist cattle to eat more dry matter.
Sulphur and phosphorus
Mulga is also inherently low in S which means the more mulga cattle eat, the more deficient in S they become. When mulga makes up more than approximately 10% of the diet, S supplementation is needed. In some cases this can be while the grass is still green. Adequate S levels are essential for rumen protein synthesis, and when urea is being fed to cattle grazing mulga, S is also required for its effective use. Mick explained that a growing season lick should have at least 2% S (supplying 0.6 – 1.2 g S/day for a breeding female) and a dry season lick should contain 3-6% S (supplying 5-10 g S/day for a breeding female).
The Mulga Lands are characterised as being P deficient, which has proven to significantly impact cattle production. Attendees heard both the scientific and economic research that has affirmed that suitable P supplementation in the growing season can significantly improve beef herd performance and profitability. Kylie explained that cattle of different liveweight and status (e.g. maintenance, growing, pregnant, lactating) have different P requirements in their supplement. On P deficient country, a 400 kg steer at maintenance requires about 3 g P/day in the supplement, compared to a 400kg wet breeder which requires about 10 g of P/day in the supplement. For more information on P deficiency and the methods and benefits of supplementation, visit our Phosphorus supplementation of cattle in northern Australia page.
In P deficient areas the risk of botulism is increased. Kylie provided information on the diagnosis of botulism and the best vaccination program to prevent significant losses in the herd. To keep track of vaccinations and other management practices a herd management calendar was provided to participants.
Tools and resources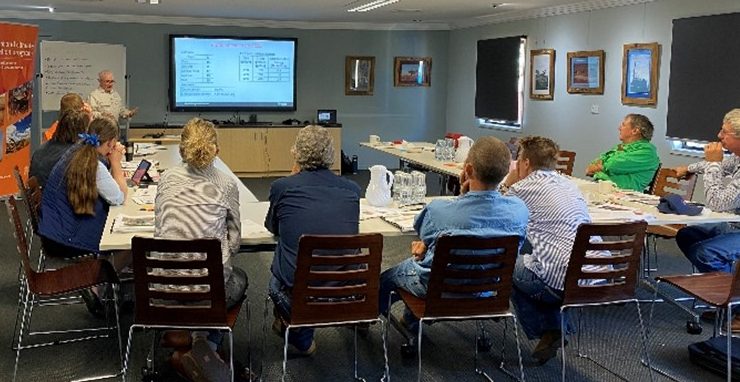 Attendees also brought along their supplement labels for a free interpretation with Mick showcasing DAF's 'FeedCalc' tool to analyse the supplements and compare the costs of different options. A lot of interest was generated by this session with many attendees interested in working further with the DAF team to develop a lick ration that will cost-effectively address the P and S deficits of their herd.
Keeping track of lick intake is critical when supplementing and attendees were provided with a lick intake calculator that allows them to easily record their herd's supplement intake and calculate supplement cost per head per month.
The workshops received great feedback with many attendees appreciating the practical sessions and the personalised support they received.
If you would like some assistance with supplementation, please contact your local extension officer.
GrazingFutures is an initiative of the Queensland Government to improve drought preparedness and resilience for Queensland producers.