RCS GrazingforProfit School Rockhampton
Wednesday 7 February 2018 @ 8:00 am

-

Tuesday 13 February 2018 @ 6:00 pm
Details
Start:
Wednesday 7 February 2018 @ 8:00 am
End:
Tuesday 13 February 2018 @ 6:00 pm
Cost:
Free
Event category:
Animal production, Land and pastures, Past event, People and business

Event tags:

agriculture, benchmarking, body condition, business, cattle, cattle handling, decision making, education, erosion, feeding for lamb survival, feeding lambs, grazing fundamentals, grazing land management, ground cover, livestock, livestock business benchmarking, management, monitoring, nutrition, pasture, people management, performance, planning, profit driver, record keeping, reproduction, risk, rural succession planning, sheep, soil, succession planning, training, weaning, weed management, well being, workshop
Website:
http://www.rcsaustralia.com.au/event/grazingforprofit-rockhampton-qld-3/
Venue
Leichhardt Hotel

Corner Dawson and Yaldwyn Streets




Taroom

,

Qld

4420

Australia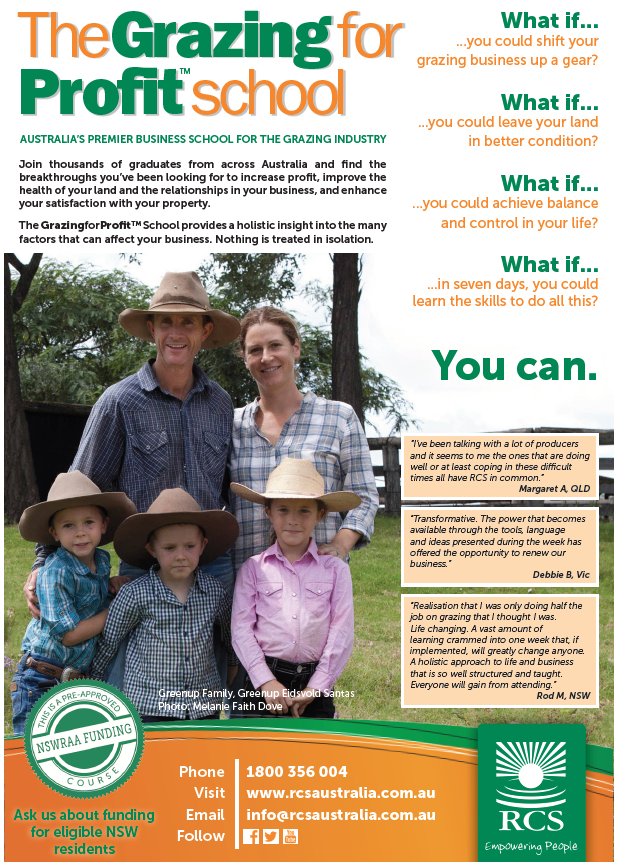 The GrazingforProfit™ School is Australia's longest running business school for the grazing industry.
The School provides a holistic insight into the many factors that affect your business including the impact of climate variability and market fluctuations as well as ways of taking control of your business by working in-sync with your resources. A half day field trip is included providing a practical application of our principles.
Topics:
Vision and goals – setting a life plan, understanding paradigm shifts, identifying values
Introduction to business – the 3 secrets for increasing profit, management reporting
Working on the Business (WOTB) – discovering a purpose beyond profit, rules and techniques for conducting meetings which focus on business outcomes and change management
Economics and planning – management accounting and tax accounting
Finance – benchmarking, business analysis and profit measures
Ecology – carbon, ecosystems, biodiversity, water, energy, grasses
Grazing principles – management systems, 6 principles of regenerative grazing, monitoring techniques, regenerating soil
Planning – designs, grazing charts
Nutrition – digestive system, reproduction and supplementation
People management – roles, responsibilities, reviews.
The final outcome is a personal WOTB session to produce take home actions which aim to improve business and personal goals.
The course fee includes pre-course materials, the course manual, ongoing access to on-line tools, all day catering (morning teas, afternoon teas and lunches) and two dinners (first and final nights), facilitation by a world class presenter and field trip expenses.
Visit the RCS website for more information.
Pre-register your interest online.
Registrations and enquiries: Email info@rcsaustralia.com.au, phone 1800 356 004 or send a message through the RCS Facebook page.