Ideal conditions to test tropical legumes at Allora
Despite the difficult growing conditions over the summer of 2018-19, tropical legume varieties planted into a pasture trial on the southern Darling Downs have persisted and produced fresh growth.
Located on a commercial grazing property north of Allora, the pasture trial was planted by the Department of Agriculture and Fisheries (DAF) sown pastures team to test the persistence of several tropical legume varieties in a cooler climate.
Department of Agriculture and Fisheries Principle Pasture Agronomist, Mr Gavin Peck said "the legumes are commercially available varieties of desmanthus and Caatinga stylo, both of which grow well in clay soils, and we're testing how well they can persist in this cooler district".
The trials were planted in December 2017 and have been allowed to grow and establish.
The frosty winter experienced at the trial, followed by a dry and hot summer, has put pressure on the legumes however many of the varieties responded well to the rain that fell in March 2019.
A field walk with 29 producers and agribusinesses was held in early May 2019 to showcase the varieties that have persisted to date and to discuss recommended establishment techniques.
Producers came from the local Allora and Clifton district as well as Brisbane, Toowoomba and Warwick to see the 11 legume varieties growing and seeding after the recent rain.
This trial is part of a five year project funded by DAF and Meat & Livestock Australia. Other project activities include fertiliser trials, on-farm trials and legume establishment and management workshops across southern and central Queensland.
For more information on the project check out this page: Legume BMP in the Brigalow Belt.
Many thanks to trial site and field day hosts, Clive and Barb Strong, for their time and hospitality.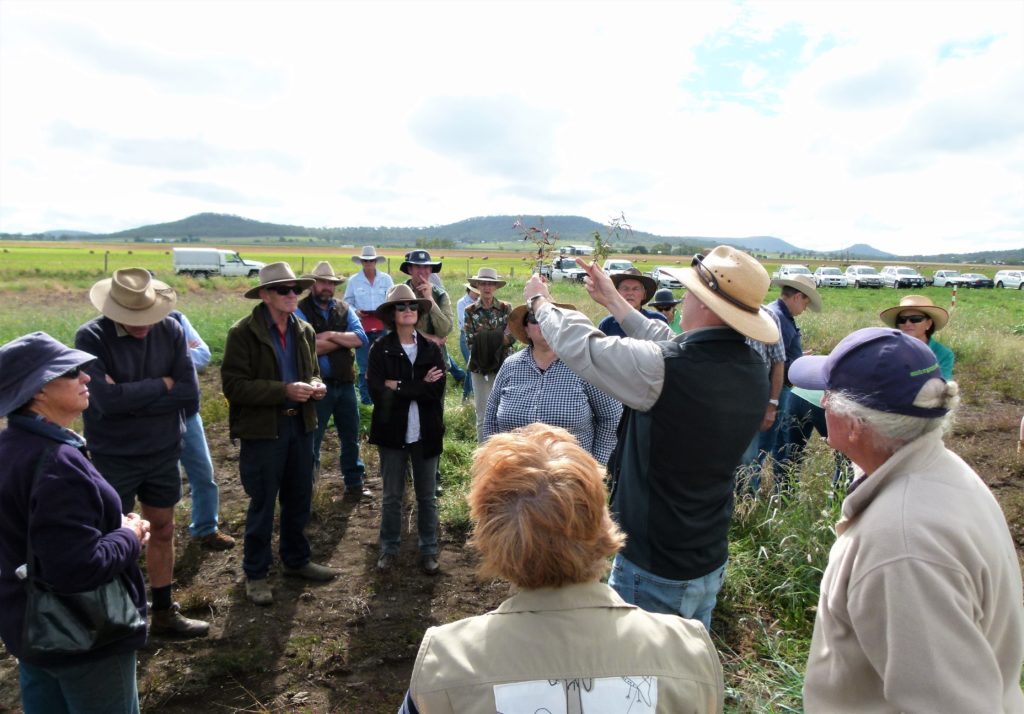 Principle pasture agronomist, Gavin Peck explains a few identifying features of varieties growing in the pasture legume persistence trial near Allora.