Productive Persistent Legume Pastures to go Live
The Sown Pastures Team have been busy conducting Productive and Persistent Legume Pasture workshops across much of southern Queensland as part of the MLA funded "Legume Best Management Practices in the Brigalow Belt Bio-Region Project".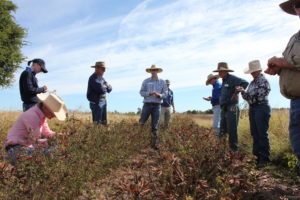 Having now completed 14 workshops attracting over 250 participants, the Legume BMP Project will adapt the workshop materials into information freely available online.
"The Brigalow Belt is a critically important region for beef production as it carries about 30% of the north Australian beef herd on only 15% of the grazed area. While this is largely due to the sown improved pastures in the region, the productivity of these pastures has declined over the years, therefore, there is great opportunity for improvement" said Principal Pastures Agronomist Scientist, Gavin Peck.
"Take leucaena for example," Gavin continued, "it is one of the most widely grown pasture legumes, however it has only been successfully adopted on about 3% of the area of pasture land that it is adapted to in Queensland. This demonstrates great potential for beef producers as on-farm research studies in central Queensland reported a 60-160% increase in live weight gain per hectare and a doubling of gross margins with legumes (leucaena and butterfly pea) compared to grass only pastures. And that's what presenting these workshops have been all about – dispelling the myths, sharing the facts and increasing the confidence of the attendees that productivity gains are there for the taking if they are willing to do their homework."
Co-presenter and Pasture Agronomist, Louise Walker, indicated that although the workshops were successful, the Sown Pastures Team were not satisfied to leave the workshop content there. "Not everyone who wanted to attend the workshops were able to make it," Louise said. "This information should be available to anyone who wants it. Our challenge is to turn what is a fairly intensive one day event, into a series of tools available online at FutureBeef.com.au."
"We are working through developing a number of web pages, videos and resources, stepping through every aspect of legume selection and establishment through to successful strategies for long term management."
The information available on the website will include tried-and-true best management practices as well as incorporating the latest results and demonstration site observations developed as a result of the research component of this project.
For more information on this project or the development of the online resources, please contact Gavin Peck, Principal Pastures Agronomist at Gavin.Peck@daf.qld.gov.au or Louise Walker, Pasture Agronomist at Louise.Walker@daf.qld.gov.au. Alternatively, find out more about this project here: https://futurebeef.com.au/resources/legume-bmp-in-the-brigalow-belt/