Repronomics II – Building and delivering effective genomic selection for northern Australian cattle
Repronomics II is the successor of the recently completed Repronomics I project, which focused on recording fertility traits in young female cattle and improved the accuracy of estimated breeding values (EBV's) and genomic evaluation, allowing for better selection to improve fertility in tropical beef herds.
The next stage of the research program, Repronomics II, will continue until 2024 further enhancing the accuracy of female fertility EBVs by increasing the size of the genomic reference populations for the key tropical breeds. Repronomics II is a collaboration between the Animal Breeding and Genetics Unit (AGBU) of the University of New England, the Northern Territory Department of Primary Industry and Resources (DPIR) and the Queensland Department of Agriculture and Fisheries (DAF). Repronomics II involves intensive recording of maiden heifers for age of puberty and length of postpartum anoestrous interval in first-calf heifers, using ultrasound scanning of ovaries at regular intervals. A corpus luteum on the ovary, left after an egg is released, is an indication that the female has cycled and can be used to determine when a heifer has reached puberty or returned to cycling post-calving.
Objectives
Repronomics II aims to increase the effectiveness and accuracy of genomic selection in tropical beef breeds while also providing new knowledge on potential enhancements to existing genetic evaluation models. The project will increase the accuracy of female reproduction traits, along with other economically important traits, enabling greater rates of genetic progress for overall profitability.
The objectives for the Repronomics II project are to:
Deliver enhanced genetic products to industry and remove barriers to adoption in northern Australia through recording high precision phenotypes, particularly traits related to early female reproduction on approximately 2,000 additional females, in tropically adapted breeds
Generating new knowledge and improved systems by evaluating the magnitude of genotype and environmental interactions, and trialling novel recording technologies that have the potential to reduce recording costs
Establish and foster collaboration through working with service providers, breed societies and northern seedstock breeders.
Data collection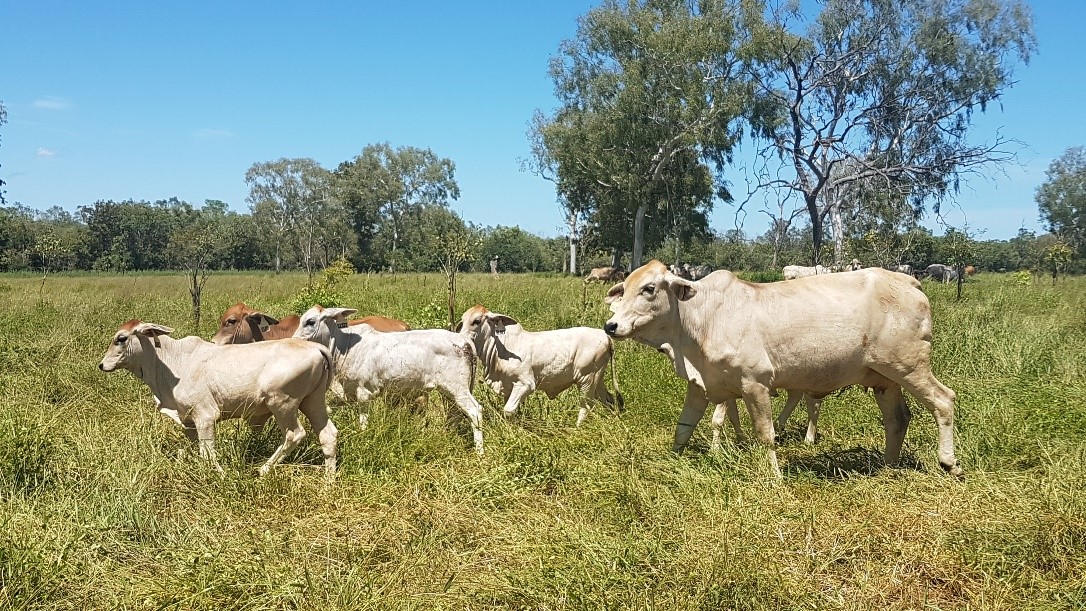 The NT, DPIR used female progeny from the Selected Brahman herd at the Douglas Daly Research Farm (DDRF) in Repronomics I and will continue to do so for Repronomics II. In addition, heifers from the Tropical Composite herd will also be included in Repronomics II, contributing to the accuracy of across-breed EBVs, ensuring industry confidence in directly comparing the genetic merit of individuals from different tropical breeds. Other traits recorded on the heifers include hip height, weight, body condition score, fat depth at the P8 site on the rump and eye muscle area (using ultrasound scanning).
The phenotypic data collected is used to identify animals with differing levels of fertility and then matched with genomic information from DNA testing. This information is used to increase the accuracy of EBVs, and in future will allow producers to identify and select highly fertile animals without having to physically record the relevant traits.
Building on previous success
An 18% increase in accuracy for the days to calving EBV was a direct outcome of Repronomics I. The aim of Repronomics II is to further lift the accuracies across the full range of traits, but particularly for female reproduction traits.  The project data additionally provides a powerful demonstration of the magnitude of genetic differences that exist in northern beef breeds, and will help drive culture change in northern breeding.
Impact on industry
Genomic selection is emerging as a method of producing additional accuracy of selection, particularly for traits that are difficult or costly to record. However, effective genomic selection requires a large reference population of animals with both phenotypes and SNP genotypes. This reference population needs to be large enough to generate genomic breeding values of industry animals with sufficient accuracy to make the cost of genotyping worthwhile. The project outcomes will be delivered to industry through existing genetic evaluation systems but opportunities exist for new and novel methods of delivery and adoption.
Collaborators
The Northern Territory Department of Primary Industry and Resources is a key collaborator in the Meat and Livestock Australia (MLA) funded Repronomics II project, along with the Animal Genetics and Breeding Unit (University of New England) and the Queensland Department of Agriculture and Fisheries.
Articles and papers
Repronomics II – Building and delivering effective genomic selection for northern Australian cattle
Contact details
For more information about Repronomics II in the NT, contact Gretel Bailey-Preston on 08 8962 4493.
The overall Repronomics II project leader is David Johnston, Animal Genetics and Breeding Unit (University of New England) can be contacted on 02 6773 2658.