Walk over weigh in western Queensland
Walk over weigh (WOW) technology has been around for a while now but is only recently sneaking its way into non-corporate systems. Given the highly variable climate of western Queensland though, the implications of getting real time data could have big benefits such as – the potential to turn off stock sooner, conserve pasture or identify the need to supplement far before visual signs of condition loss.
To test out this theory, the GrazingFutures project has invested in a WOW system. It is initially being housed at Echo Hills—located between Roma and Taroom—with assistance from livestock managers Anna and Anthony Dunn. We have a million questions to test but we started with looking at simply how the real time data affects the timeliness and accuracy of decisions made for a particular mob turned off around April 2019.
What to look out for in 2019:
videos of the set up – training cattle, infrastructure required, any lessons learnt
serial updates on paddock, supplement, drafting and turn off decisions from the managers
an open day opportunity in 2019.
The next part of the plan is to use the auto-drafting component to compare groups run in the same environment – eliminating the paddock effect. Some of the things we might trial include:
kg/hd vs kg/ha
variance in performance of stock from different vendors
comparing supplement options
performance of in vs out of season calves
compensatory weight gain
losses from handling/yarding to weigh
impacts on land condition
production and growth capacity
So follow the Queensland Agriculture facebook page to see updates as they come or check back in to this page and look in the Publications section below. If you have questions about WOW that you want answered or if you want more information, please get in touch!
Contacts: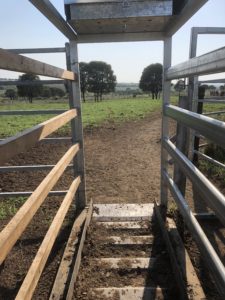 Department of Agriculture & Fisheries, Charleville: Andrea McKenzie E: andrea.mckenzie@daf.qld.gov.au
ConnectAg, Roma: Rhonda Toms-Morgan E: rhondatoms@bigpond.com
Project Partners:
This project is only possible with help from Department of Agriculture and Fisheries, Natural Resource Management groups, Tropical Beef Technology Services, ConnectAg and Echo Hills. It is primarily lead by the GrazingFutures project which is a Queensland Government initiative helping Queensland graziers to improve drought and business resilience. 
Publications
Keep an eye and ear out here for links to videos, updates, reports and more from the guys at Echo Hills and the GrazingFutures team!
Additional information