Am I selling or marketing cattle?
What is the difference between selling and marketing cattle?
Selling is transferring ownership of the livestock you have produced to the meat works or saleyards.
Marketing is an overall management process of identifying, anticipating and satisfying customers' demands, for a profit. Marketing involves identifying customers and their needs, knowing what you can produce profitably, and using feedback to refine production and services.
Steps involved in marketing cattle
Steps involved in marketing include identifying:
What are the main markets? (e.g. domestic, Japan, US, Korea, live export, others)
What have we got now? (feedback, property records)
What are the market trends? (market intelligence, e.g. Meat & Livestock Australia reports, customer communication)
What can we produce profitably? (records, analyse enterprise and market options)
Who are my target customers? (producers, feedlots, processors, retailers, consumers)
What do they want? (specifications, use of standard language, other needs)
Focus production and services (breeding objectives, best practice, accreditations, training)
Promotion (objective data on product performance)
Selling method (abattoir, agents, saleyards, private, AuctionsPlus, contracts, alliances)
Delivering to the customer's expectations (live animal assessment to specifications, paperwork, other needs)
Feedback on customer satisfaction (analyse feedback, follow up with customer as required)
Refine production to specifications (adjust breeding objectives, management practices, measure results)
Who can help? (own research, training, agents, government, friends, customers)
Market specifications
Your customer's specifications indicate the traits of greatest value to them. The best way to find out is directly from your customer. Examples of the main markets are shown in the figure below. USA accepts most cattle, preferably greater than 220kg HSCW (hot standard carcase weight).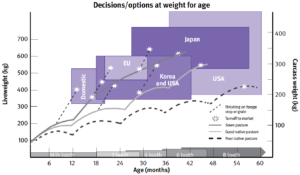 Market intelligence
Meat & Livestock Australia provides useful market information, as written reports via the web or email. As a cattle producer you can register with Meat & Livestock Australia for free and receive a number of free reports; other reports are for sale. Meat & Livestock Australia also provides a free weekly email news update. You can subscribe online by visiting Meat & Livestock Australia Market Information Subscriptions or by calling 1800 023 100.
Roger Sneath, Department of Agriculture and Fisheries.