Sweet Spot Project keeps moo-ving across the north
The Sweet Spot project has passed its first hurdle, which was to find enough suitable breeder datasets to analyse the sweet spot of pasture utilisation for optimising reproductive performance in northern Australia. The project aims to develop tools to predict the impact of pasture utilisation on reproduction, so producers can manage pasture use to maximise kilograms turned off, while maintaining the resource base.
The first phase of the project involved searching across the north for suitable existing breeder datasets that could be collated and modelled. The datasets needed to have the following: individual animal ID so we could calculate consistent reproductive indices; known paddock infrastructure and stock numbers by class to calculate stocking rates and intake; no production supplementation; at least two years and preferably three years or more data to increase the likelihood of experiencing a range of utilisation rates for the herd. Twenty eight out of 64 reviewed datasets were suitable for the project. This is considerably more than originally envisaged. Given the unexpected wealth of datasets for the NT, the project was recently granted additional time and resources to analyse and model all the datasets.
The datasets are spread across the NT and northern Queensland (Figure 1). The data are from between 1993 and 2018. So far we have nearly 90,000 records of cattle data from 24 different properties and around 120 paddocks. Each study has at least three years data. Some properties have data from multiple studies, paddocks and herds.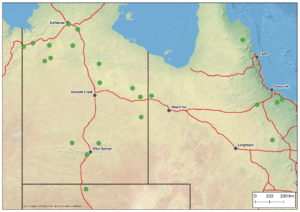 | Region | Alice Springs | Barkly | Katherine | North Qld | Qld Barkly | Sturt Plateau | VRD |
| --- | --- | --- | --- | --- | --- | --- | --- |
| NT | 3 | 6 | 2 | | | 4 | 6 |
| NT/SA | 1 | | | | | | |
| Qld | | | | 5 | 1 | | |
Figure 1. Location of breeder datasets to be analysed in the Sweet Spot Project.
The next phase of the project is to calculate consistently derived reproductive performance indices across all the herds and to model pasture utilisation for each herd for each year. Reproduction indices include annual pregnancy, pregnant within 4 months of calving while lactating, foetal and calf loss, missingness (indicator of female mortality), and weaner production.
The project is funded by Meat & Livestock Australia and brings together pasture and cattle scientists, and modellers from across the north. The $2M project, over four years, is led by the Northern Territory Department of Industry, Tourism and Trade, collaborating with the Queensland Department of Agriculture and Fisheries and Department of Environment and Science.
For more information visit the Sweet Spot project page or contact Dr Robyn Cowley, Senior Rangeland Scientist, Northern Territory Department of Industry, Tourism and Trade on 0419 829 493 or Dr Kieren McCosker, Senior Research Fellow, Queensland Alliance for Agriculture and Food Innovation, The University of Queensland on 0447 828 315.