Time to connect with the team at Bushfires NT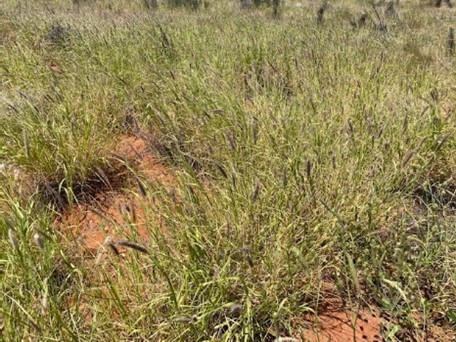 While the summer of 2020-21 saw a lot of grass growth in what had been a very dry landscape, the summer of 2021-22 has seen an increase in fuel load, raising concerns for the potential impact of hot bushfires occurring later in the year.
The Department of Industry, Tourism and Trade (DITT) is working with the Department of Environment, Parks and Water Security (DEPWS) to ensure that cattle station owners, managers and pastoralists are ready for the upcoming bushfire season. Bushfire NT's Senior Fire Management Officer, Lee Gleeson, is based in Alice Springs and has been working with DITT and landholders to prepare.
"I have been encouraging stations to think about parts of the station that could be burnt to protect the more productive areas of the station," he said.
"Strategic burning along existing roads and tracks, even 300–400 meters wide, will provide breaks in the vegetation and could be enough to safely attack and/or restrict the spread of fires. Bushfire planning, including training and regional planning, should be pretty high on the job list right now", said Lee.
The Bureau of Meteorology is suggesting average rainfall is still likely for May in the Territory.
When buffel grass is still partially green and only partially cured (see Figure 1) it is notoriously hard to put in controlled burns. Prescribed burns are possible with the right conditions and further curing increases the risk of wildfires carrying. Even at the end of March, grassy fuels had hayed off considerably and Bushfires NT are already seeing some sizeable wildfires, and some planned burns across Central Australia.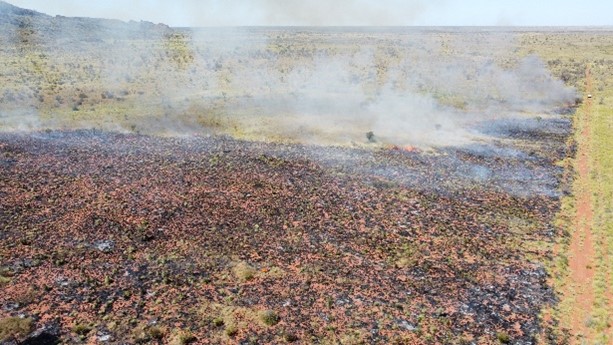 Figure 2 shows a recent burn south of Alice Springs conducted in early March. Overnight temperatures were low (around 12 – 14°C) and the burn went out with no further hot spots according to Northern Australia Fire Information (NAFI) the next day. This burn had a 6 km edge lit by two personnel and one firefighting unit and took only a couple of hours in the mid to late afternoon. While the buffel grass was still visually quite green, it had hayed off enough to carry the burn.
As the weather starts to cool, there could be plenty of chances to conduct some burning in the coming months.
Bushfire NT's Lee Gleeson is encouraging livestock owners, farmers and others who are interested in managing fuel loads on their properties to conduct some test burns.
"Just start with one match late in the day and observe how quickly the fire travels," he said.
"If after 5 minutes the fire has travelled less than 20 meters or so, this tells you that after an hour it will have travelled around 300 meters. That will produce a low intensity fire consuming only the finer fuels, which is what is needed," he advised.
"A fire front carries through the fuels less than 6 mm in diameter – anything larger burns after the fire front has passed."
"If the test is burning faster than you want, then put it out and try another test in half an hour or so. In late afternoon to evening, the temperatures can rapidly fall while humidity rises, both of which reduce the intensity and speed of a fire".
"As we move into winter the nights will typically get cooler and these lower intensity fires will self-extinguish leaving a 200–400 meter wide break. As the landscape doesn't dry evenly, producers might be able to use greener areas (water courses or clayey soils) as firebreaks for controlled burns. Checking in the morning allows for easy extinguishing of any areas still burning".
Northern Territory producers are also urged to ensure key strategic breaks are maintained. The fire breaks are important for 2 reasons – in some instances they may contain a fire, and in other instances they will provide a relatively safe place to conduct back burning operations.
The Rangelands team at DITT is also encouraging producers to get in contact with fire authorities for further advice as the current fuel loads begin to dry off. Staff at Bushfires NT are ready to help producers and neighbouring landholders to develop and implement bushfire plans. This can be particularly useful at the regional level with neighbours cooperating on their plans.
Producers who are interested can also take part in more advanced preparations. Training is available by way of the Fire Fighter 1 course (12 hours) or the Remote Area Fire Fighting Course (8 hours) that will provide station staff with information to ensure they remain safe on the fire ground and will provide techniques and terminology to safely suppress or manage fires and planned burns. There is also a session on lighting patterns and techniques.
Contact Bushfire NT to find out more: Alice Springs 08 8952 3066 or BushfiresNT@nt.gov.au.
This article was written by Alison Kain, Pastoral Production Officer with NT Department of Industry, Tourism and Trade, and Lee Gleeson, Bushfire NT's Senior Fire Management Officer, Department of Environment, Parks and Water Security.
---
Related resources
← Using fire as a management tool in grazing lands 
← Burning mulga country to control woody weeds
← Fire management guidelines for Kimberley pastoral lands: best management practice guidelines (PDF, 300 KB)