Highlights and challenges of leucaena under the Starbright
Around 50 graziers and industry representatives recently attended the Starbright Leucaena field day to learn about establishing and managing leucaena in northern environments.
Most of the graziers came from the Charters Towers region, although a few had travelled from coastal areas and Central Queensland.
Department of Agriculture and Fisheries (DAF) beef extension officer and event organiser Peter Carmona said that the main lesson to come out of the day was that well established and managed leucaena can generate good long-term economic benefits for northern beef enterprises.
Mr Carmona said that ensuring leucaena is well established pays off in the long run and that it was really important to use best agronomic practices. He said that as a rule of thumb, leucaena needs a minimum of 600 mm of rainfall per year and needs to be established in paddocks with the best soils for success in north Queensland.
Craig Lemin from DAF Mareeba, advised that leucaena establishment requires commitment. To increase establishment success, leucaena should be planted no later than the end of February, into a well-prepared seedbed with good soil moisture. To achieve consistent emergence, planting depth should be in the range of 20-30 mm. He also emphasised the importance of cultivation and weed control during the first few months of establishment
Bron Christensen from The Leucaena Network, talked about increased live weight gains on leucaena and the importance of following the Leucaena Code of Practice.
The day was rounded off with a presentation from Vivian Finlay, DAF agricultural economist, who spoke about the economics of the legume. She said that although the initial investment required to establish leucaena can be high, it can be a very profitable long term option for graziers. She recommended starting out small scale and then increasing the area under leucaena once graziers become more experienced with this feed source.
Event organisers thanked the hosts Carol Ross and Ian Frohloff (Starbright Station) and the range of speakers on the day: Darcy O'Brien (The Brook Station), Bernie English (DAF Mareeba), Bruce Mayne (Mayne Seeds), Bron Christensen (The Leucaena Network), Nigel Tomkins (MLA) and Lisa Hewitt (ANZ).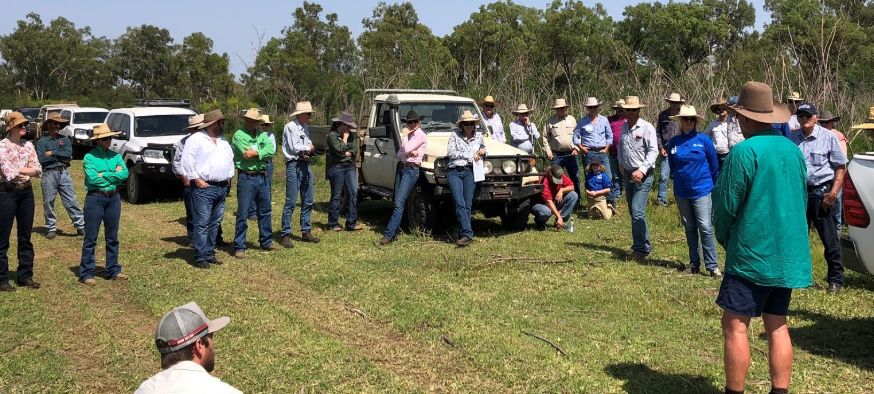 Further information about leucaena establishment and management can be found on two recently recorded webinars with Department of Agriculture and Fisheries Senior Agronomist, Stuart Buck: How to reliably establish leucaena and How to manage leucaena once established.