November eBulletin — leading the way sharing northern beef and pasture research
Page published: November 18, 2021 | Page reviewed: November 18, 2021
Are you on our distribution list? You should be!
The November eBulletin features:
If you follow us on Twitter, you may have noticed a conversation recently between a few FutureBeef followers and Dr David Phelps, regarding possible causes of recent Mitchell grass death in the northern rangelands. Questions asked included the impact of lightning, the role of the age of the plants, resistance to waterlogging and the likelihood of Mitchell grass dieback being caused by the same agent as dieback observed in eastern Australia. Read the insights!

New video! Transporting cattle safely
We all know that the safety of cattle during transport is the responsibility of everyone involved, but do you know who is responsible, when? Find out in this great video with Melinda Leeds (pastoralist and feedlotter) and Peter Grey (livestock transporter): click here.
Beef producer case study: P supplementation leading to multiple business benefits
When Harry and Alys McKeough purchased Carry Downs Station in the upper Gascoyne region of WA, they were unfamiliar with the impact low levels of soil phosphorus can have on herd productivity. However, thanks to thorough investigation and consultation, Harry and Alys have successfully customised their own phosphorus supplementation program, providing multiple benefits to their business, including self-herding and the opportunity to participate in a carbon farming project. Read Harry and Alys' story.
Unexplainably low calving rates? Small and weak calves? Possibly pestivirus
If you've had a year where pregnancy rates have been unexplainably low, the cause could be pestivirus. Unfortunately, due to the complex nature of the disease, there is no one-size-fits-all cost-effective prevention strategy. Read what you can do to protect your herd from pestivirus induced abortion storms.
9 ways to take advantage of the beef trifecta — with Bob Shepherd
In early October, many scientists and extension officers shared their latest research findings at the Australian Rangelands Society Conference in Longreach. However, one presentation stood out from the rest: 'Nine ways to take advantage of the beef trifecta', provided by Department of Agriculture and Fisheries Principal Extension Officer, Bob Shepherd.
Here is a summary of Bob's presentation, compiled by Meat & Livestock Australia.
Celebrating the one year anniversary of the NT Rural Review
There is something quite enjoyable about sitting down with a cup of tea and a newsletter full of information and stories relevant to your business and lifestyle. The Northern Territory Rural Review is available online and has a free subscription service. The newsletter is published quarterly and contains up-to-date horticultural, livestock and biosecurity information. Click here to read more.
Pain relief options demonstration sites in northern WA
Two properties in the Kimberley, and another in the Pilbara, are hosting pain relief Producer Demonstration Sites showcasing two methods for applying pain relief products, while promoting industry best practice animal husbandry.
The Department of Primary Industries and Regional Development's Northern Beef Development team is coordinating the project in northern Western Australia to demonstrate the use of topical and injectable pain relief options during weaner management. Read more.
Read it all: https://mailchi.mp/futurebeef/111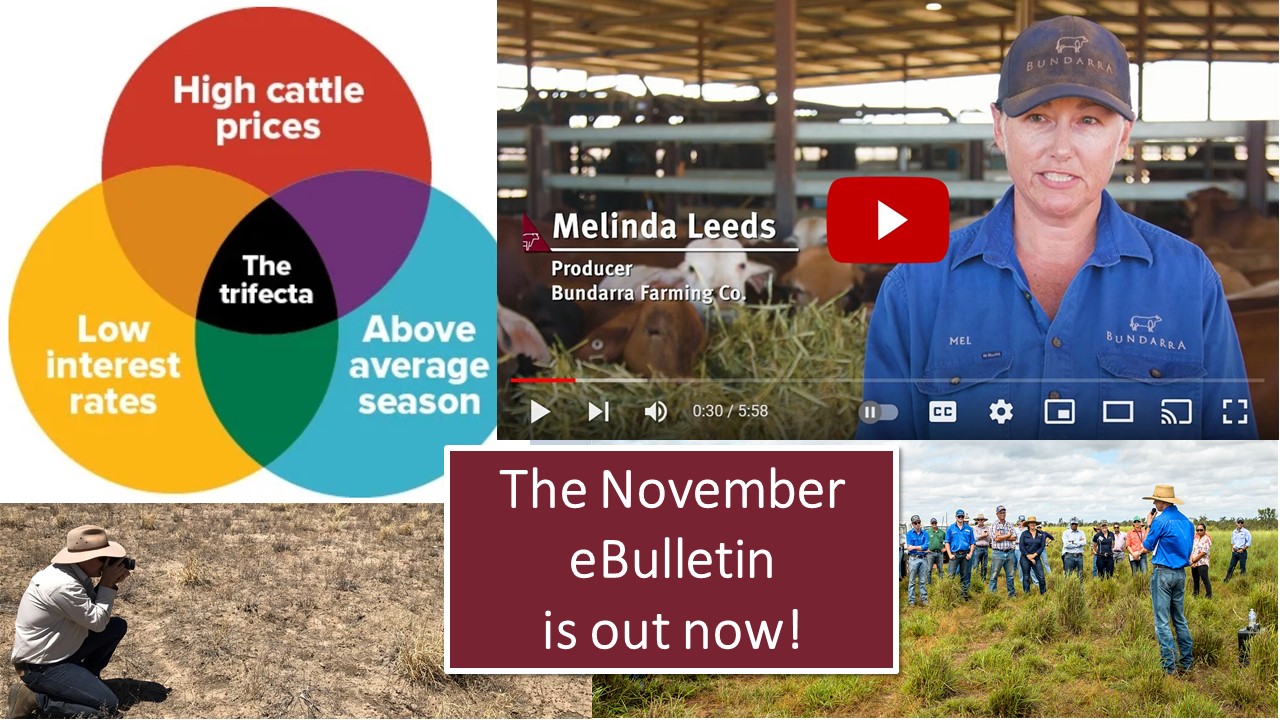 Never miss out ― Subscribe to the monthly eBulletin today: http://bit.ly/2VoMI2d