Pasture dieback management options well received by industry at field days
Pasture dieback remains a serious issue for graziers in eastern Queensland and north-eastern New South Wales, however new research from the Department of Agriculture and Fisheries (DAF) has started to shed light on practical management options for affected pastures.
DAF scientists are currently conducting 10 research and demonstration trials on producer properties and research station facilities. The results from these trials have helped develop management options that have been presented at Pasture Dieback Management Workshops across the state in recent months.
Management options for pasture affected by dieback are as follows:
manage for recovery
improve the pasture
sow a break crop
treat a pathogen.
To help producers make an informed decision based on the type of country they have and the size of the affected area, DAF scientists have developed a decision web (Figure 1) and matrix (Table 2) outlining the recommended management options.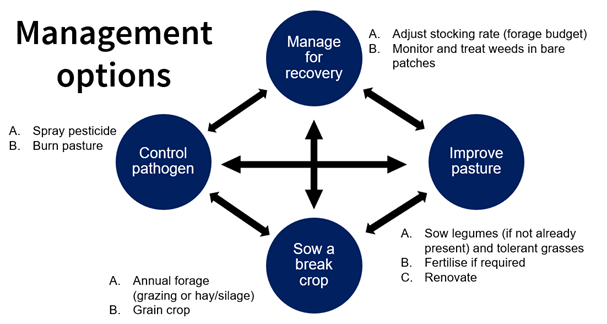 For more details on management options, read our previous article here.
 Table 1. Decision matrix of pasture dieback management options based on the size of the area affected and whether the country is arable or not.
Management options
Small patch
Widespread
Arable country
Forest country
Arable country
Forest country
Manage for recovery
Adjust stocking rate (forage budget)
Monitor and treat weeds in bare patches
Improve pasture
Sow legumes and tolerant grasses
Fertilise
Cultivate
Sow a break crop
Annual forage (graze or hay/silage)
Grain crop
Control pathogen(s)
Spray pesticide
Burn
 "Depending on the situation, an area of country might benefit from a combination of management strategies," said Stuart Buck, DAF Pasture Dieback Project Leader.
"For example, a grazier might decide to burn an affected pasture, sow it to a forage hay crop for a few years, then return the area to a diverse legume-grass pasture. There is a larger range of options for arable country, particularly if machinery is available."
Trial work also includes testing tropical grass and legume species for pasture dieback tolerance.
"These trials, as well as industry observations, have helped us to develop a list of species and their relative tolerance to pasture dieback," said Mr Buck.
"Grass species like Biloela buffel, purple pigeon grass, panics and native grasses such as black speargrass, and forest bluegrass, generally fall towards the more tolerant end of the scale. Whereas Gayndah and American buffel, Bisset bluegrass, pangola, paspalum and sabi grass, are consistently heavily affected by dieback."

Grazier Warren Luhrs is hosting a trial on his property 'Wonga', located at Moura. Wonga has been badly affected by pasture rundown, Indian couch and dieback.
"The country where the trial is located on Wonga was originally planted to Gayndah buffel grass and had since become quite rundown. We first noticed dieback in 2013-14 after we had a good season. After the buffel died in large patches, the Indian couch was able to get away and take over the area," said Mr Luhr.
The DAF research trial on Wonga is testing the relative tolerance of a range of grass and legume species to dieback.
"We cultivated the area with offsets several times, did a soil test, fertilised, planted and rolled the seed, just in time for rain in March 2021. In total the area was fallowed for about six months before planting. The trial area as a whole is looking very good. After going through the process of establishing the trial area, I have decided to establish new pastures in other dieback affected areas on Wonga, and my other property, Ridgedale. I will be choosing the more tolerant grasses and lots of legume species, following the same regime that we used in the trial."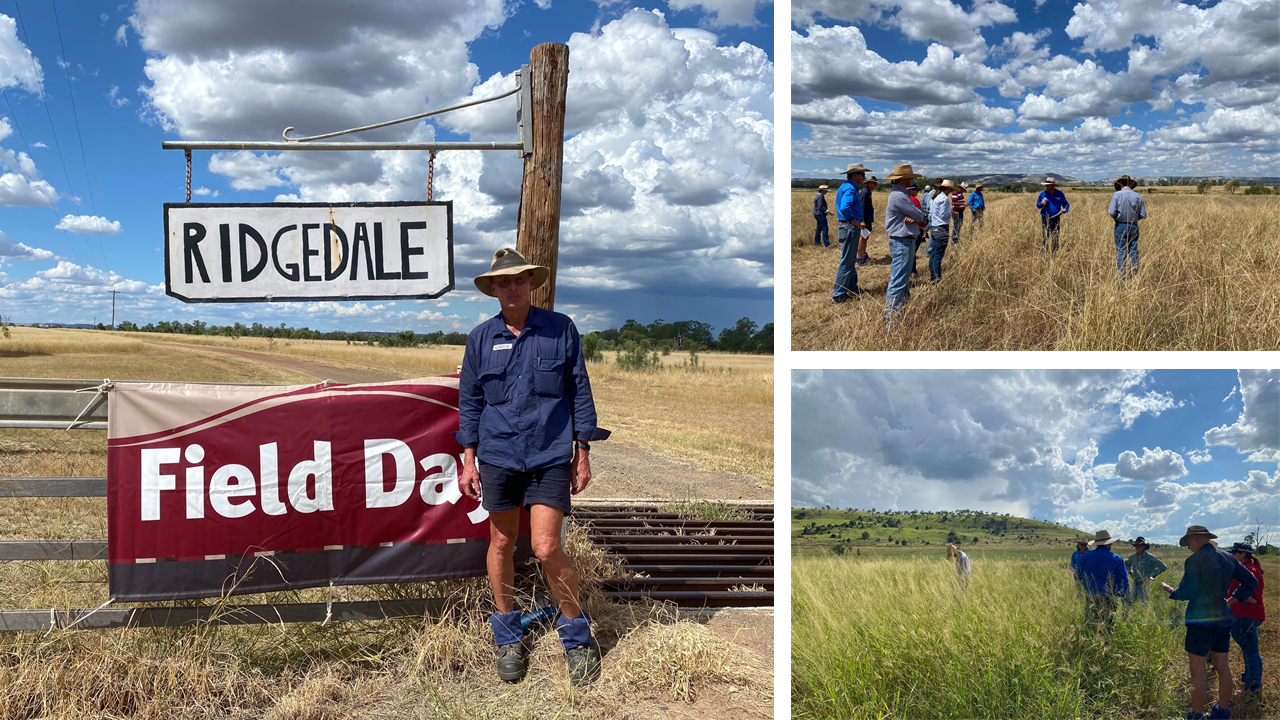 Recently, Mr Luhrs hosted a field tour of the trial area where 19 attendees were able to see the growth of various pasture species in the previously affected area. The field tour followed on from a pasture dieback management workshop on the same morning. The workshop group also visited 'Torsdale', owned by Will Wilson at Biloela, to inspect another trial site. The Torsdale trial was showing signs of dieback in control plots (no treatments) whilst plots replanted to new grass and legume species were green, dense and healthy.
Results from research station and producer-hosted trials have been developed into a Pasture Dieback Management workshop that has been delivered at nine locations across eastern Queensland since September 2021. More than 140 graziers and industry personnel have attended and feedback from the events has been very positive.
"At the workshops we ask people to rate their understanding of several concepts relating to pasture dieback before, and after, we deliver our content," said Kylie, Beef Extension Officer, DAF.
"We found that on average people rated their understanding before the workshop at 3.5 out of 7, which improved to 5.8 (out of 7) at the end of the workshop. We were also interested to know if, and what, people planned to implement on their property. We found that 80% of people were planning to employ one of the described management options and most were opting for an improved pasture or managing for recovery."
Workshops have been held at Malanda, Ingham, Nebo, Moura, Gin Gin, Gympie, Esk, Boonah and Millmerran. On average, attendees rated the overall usefulness of the event 6.3 out of 7.
More workshops are planned for 2022 in the Southern Burnett and Central Queensland. If you are interested in being kept up to date with DAF's pasture dieback activities, including research trial results and upcoming events, sign up to the Pasture Dieback Industry Network.
The DAF pasture dieback team acknowledge Meat and Livestock Australia for their funding support for these activities.
This article has been written by Kylie Hopkins, Beef Extension Officer, Department of Agriculture and Fisheries.
---
More pasture dieback information