Optimal cattle growth pathways in central Queensland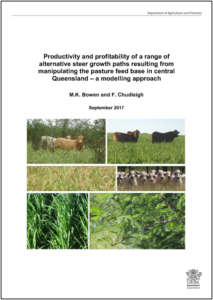 What is the best way to use high quality forages? In central Queensland is it better to:
feed leucaena to steers to sell them as bullocks or
put weaners on oats and then leucaena to sell them as feed-on steers or
put yearling steers on to leucaena or
just leave them on buffel grass until they sell?
Don't know? The answers are in this report 'Productivity and profitability of a range of alternative steer growth paths resulting from manipulating the pasture feed base in central Queensland – a modelling approach' by Maree Bowen and Fred Chudleigh, Department of Agriculture and Fisheries, Queensland (PDF, 2 MB).
Multimedia
In this webinar recording, project leader Maree Bowen provides an overview of the results and discusses the key findings from the report. 31:26 minutes published 26 July 2018. https://www.youtube.com/watch?v=1PWb57wW11Y