QGRAZE
The QGRAZE project was designed to objectively monitor at-risk landscapes using a common methodology over a 30 year period. It was initiated in 1989 across Queensland under the Commonwealth Government's Natural Heritage Trust Program with federal and state contributions in excess of $2M. It was planned that sites would be photographed annually and intensively assessed for pasture species change, ground cover, native woodland thickening (tree basal area) every five years. Unfortunately assessments were discontinued across the majority of QGRAZE when funding ceased around 2000.
There are 446 QGRAZE sites in Queensland (Figure 1), with 286 of these sites located in the Burdkein, Fitzroy and Burnett-Mary catchments (Figure 2).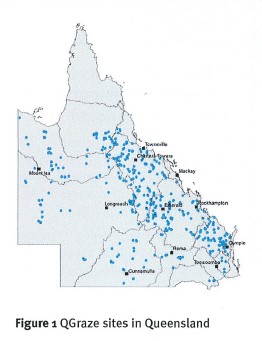 QGRAZE sites were established on-property and were marked out by five star pickets (with PVC collars) spaced 50 m apart and positioned in a north to south alignment. Initial visits to some of these sites by DAF staff date back to 1991.
Each of the five star pickets represent the centre of a 5 x 200 m transect lines that run east to west. Each QGRAZE site encompasses four hectares.
What's new in QGRAZE?
With permission from landholders, the Indian Couch grass project is resurveying some QGRAZE sites in the Burdekin, Fitzroy and Burnett-Mary catchments.
Historical records will be compared to current pasture composition to determine the extent of Indian couch increase over the last 25 to 30 years.
Indian couch cover and yield assessments, along with soil sampling at each site, aims to determine the relationship between Indian couch spread and pasture species composition, soil fertility and soil texture.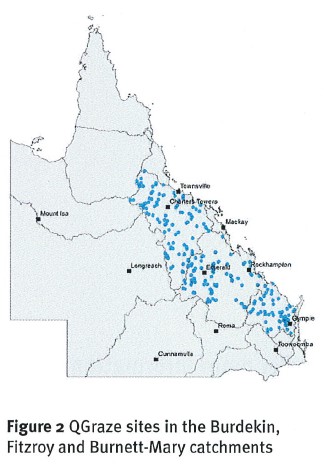 This work will provide up-to-date information on the extent of Indian couch in pastures and the rate of spread.
Indian couch exhibits many competitive advantages over native tussock grasses, such as withstanding heavy grazing and being a prolific seeder. However, climatic and management factors are less understood, as are livestock grazing preferences for Indian couch.
With the help of producers, and the feedback they provide including management histories and paddock observations, Department of Agriculture and Fisheries is discovering the drivers to Indian couch expansion.
Published journal articles
Silcock R. G., Hall T. J., Filet P. G., Kelly A. M., Osten D., Schefe C. M., Knights P. T. (2015) Floristic composition and pasture condition of Aristida/Bothriochloa pastures in Central Queensland. I. Pasture floristics. The Rangeland Journal 37, 199-215.
For more information:
For more information about QGRAZE sites, contact Madonna Hoffman on 07 4843 2641.