GrazingFutures
GrazingFutures supports the resilience of grazing businesses by assisting graziers recover from the current drought and educate them to be better equipped to prepare and manage future droughts and business conditions. Grazing businesses will be better informed to manage drought times as an every-day part of their business. The western Queensland grazing industry contributes significantly to regional economies, and thus, when the industry is profitable, then regional communities generally perform well. In short, resilient grazing businesses contribute to resilient communities.
The project team will work with grazing businesses recognising that, as landholders, they are custodians of their land. Through best practice extension the project team will support grazing businesses to identify where they need to improve, work with them to grow their knowledge and skills and assist them implement improvements. GrazingFutures will develop graziers' skills through the best available science and provide opportunities for graziers to share their industry knowledge and experience.
GrazingFutures will partner to provide project leadership across all areas of Western Queensland to better integrate grazing extension. The project is built on collaboration and enhanced alignment across organisations, Regional NRM groups, AgForce and industry. GrazingFutures provides a coherent plan to more effectively share resources and better target the support provided to the grazing industry. It is built on measuring and understanding the impact the project has and where necessary, refine what, and how, we deliver. As a consequence of the additional investment and collaboration, GrazingFutures will help build the capacity of agricultural advisors across the region.
Partnership, collaboration and investment
GrazingFutures has adapted the highly successful industry-led, Grazing Best Management Practices (Grazing BMP) program and partner with AgForce, Natural Resource Management (NRM) Groups, FutureBeef, Leading Sheep and the Rural Financial Counselling Service (RFCS). The project also links with the Royal Flying Doctor Service (RFDS) and a range of mental health programs. All five regional NRM groups across the project area have agreed to partner with DAF in the GrazingFutures project together with the industry organisation AgForce. This partnership and collaboration is unheralded across this significant rangeland region of Queensland.
Funding for GrazingFutures has been allocated from the five-year Drought and Climate Adaption Program (DCAP) which is a component of the Queensland Government's Rural Assistance and Drought Package. The DCAP policy has identified:
Farm business assistance should be aimed at improving drought preparedness through training and decision support tools;
There is assistance to improve risk management and drought preparedness; and
The Queensland Climate Adaptation Strategy seeks to address risks to the economy, environment, infrastructure and communities from current and future climate impacts.
A significant strength of this project is that it is producer-centred and operates within the comprehensive framework of Grazing BMP, providing a very sound basis for collaboration. Whilst the project is currently funded by DCAP there is the opportunity for other investment in the project and alignment of additional programs. This would build on the existing collaboration, deliver additional outcomes in parallel and provide the efficiencies of an established project and partner relationships. Further, as well as building the knowledge and skills of grazing businesses GrazingFutures is, in a structured manner, building the skills of project staff, which may further support practice change and drought resilience in the grazing community of western Queensland.
Project objectives
Prioritise the delivery of workshops, training and targeted support within the themes of people and business, grazing land management and animal production based on verifiable industry needs, data and regional drought conditions.
Support grazing businesses in western Queensland to improve business resilience, drought recovery and future drought preparedness.
Improve the skills and capability of grazing industry support officers from both the public and private sectors to facilitate improvement in business resilience, drought recovery and future drought preparedness of grazing businesses in western Queensland.
Partner with government, non-government agencies and other partners to deliver comprehensive support to grazing businesses and value add to existing services.
Analyse and document key learnings from grazing businesses adopting objective measurement to enhance drought recovery, increase future drought preparedness and plan for other business risks.
When: 1 January 2016 to 31 January 2021
Contact: Joe Rolfe, Department of Agriculture and Fisheries
Collaborators: AgForce, Natural Resource Management Groups, FutureBeef, Leading Sheep and the Rural Financial Counselling Service.

---
GrazingFutures case studies
Hold 'Em or Fold 'Em leading to gains near Teelba
After attending the GrazingFutures Hold 'Em or Fold 'Em – risk-based decision making and resilience workshop in Surat, Bindy and Ben Lasker "Beechwood",  near Teelba, focused more on the nutrition of the cows and weaners moving to a ration for weight gain as opposed to maintenance feeding. "By bringing our cows up to a particular weight we could sell them direct to the works and make much better money per animal than what we were looking at if we had sold them as light stores in December and reduced the cost of feeding by going to a maintenance ration at the time." Ben and Bindy were confident this additional cost to the business would reduce further economic risk because of what they had learned at the workshop. Read more of Ben and Bindy's story: Striving for weight gain in drought case study (PDF, 200 KB).
Case study: Weaner nutrition for the win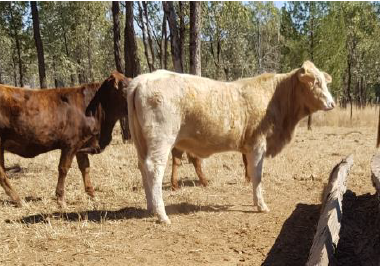 'Claravale' has been in the Campbell family since 1890, and environmental sustainability is a priority for Gill and Eunice who are committed to the development of management practices that will improve and maintain the condition of both their land and their livestock. For several years, the Campbell's felt that graziers, themselves included, weren't doing as well as they could at keeping ground cover and pasture quality up to scratch.  This belief, combined with a desire to improve land condition, pasture composition and cattle performance led the Campbells to seek out industry research recommendations and participate in learning opportunities. Attending events such as EDGE workshops, and an Efficient Nutrition Workshop, enabled the Campbells to consider alternative management practices for their property and herd. Click here to read the Weaner nutrition for the win case study (PDF, 611 KB).
Case study: Early weaning and mitigating risk in dry times
Mark and Carolyn Redgen have always focused on using sustainable and flexible management strategies for their beef business located in the Maranoa region. In 2019, due to the increasing severity of drought conditions and after attending an early weaning webinar with Desiree Jackson and another GrazingFutures event, the Redgens' decided to trial early weaning, which saw multiple benefits to their triple bottom line. Read more of Mark and Carolyn's experience, including innovative pre-weaning practices, in the Early weaning and mitigating risk in dry times case study (PDF, 1 MB).
Case study: Phosphorus supplementation at Watson River
GrazingFutures project is assisting beef producers to identify phosphorus deficiencies, tailor supplement recipes and adopt practical feed delivery systems at the property and paddock level. In this case study, the Quartermaine family of Watson River, near Weipa in Far North Queensland, discuss the benefits they have seen since starting to feed phosphorus during the wet season, nearly a decade ago. Some of the benefits observed have included an increase in weaning rate by 11% and a decrease in breeder mortality by 3%. Click here to read the Phosphorus supplementation at Watson River case study (PDF, 1.3 MB).
Case study: Spreader banks for water retention with Glenn Landsberg
After attending a water ponding and spreader bank field day in Cunnamulla in August 2019, Glenn Landsberg of "Sunset", Charleville, implemented five new spreader banks that were different in design to his usual practice. After good rain in early 2020, Glenn was able to compare the effect of the different spreader bank designs. In this GrazingFutures case study, Glenn shares what he has learnt, including a comparison of the different water spreader designs. Click here to read the Spreader banks for water retention with Glenn Landsberg case study (PDF. 2.7 MB).
Case study: Northern P roadshow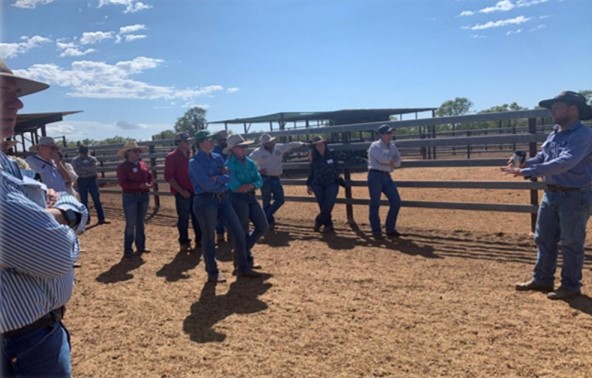 The majority of Gulf beef businesses are in phosphorus (P) deficient country. When implemented, phosphorus supplementation greatly improves the herd performance (branding, death and growth rates) of northern breeding operations faced with seasonal variability and is a fundamental feature of resilient livestock businesses. The 2019 GrazingFutures Northern P Roadshow enabled extension staff and scientists to deliver information directly to regional areas where phosphorus deficiency is a major contributor to poor herd production and business outcomes. Bringing science to the bush, connecting producers to respected researchers and fostering peer to peer learning increased the adoption of phosphorus supplementation across the region. Learn what messages were shared at the many Northern P Roadshow events in this GrazingFutures case study: Northern P Roadshow (PDF, 1.3 MB).
Case study: Eldorado Station — Prickly acacia treatment and operational changes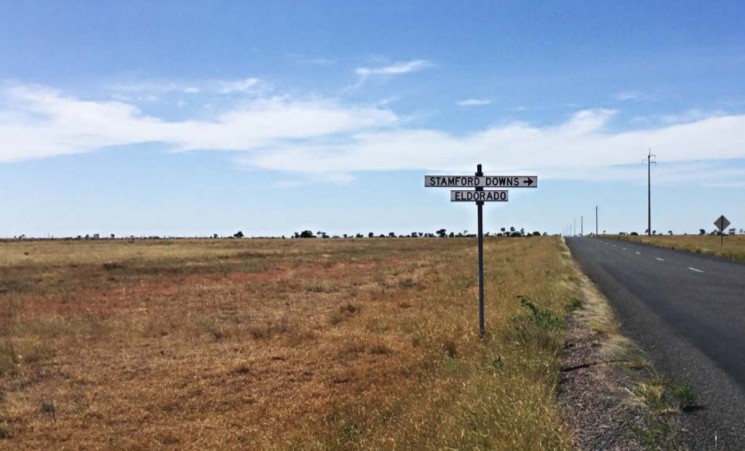 "Prickly acacia is like cancer, you have to cut it out completely. If you just clear some of it, it will soon return."
David and Helen Ogg of Eldorado Station near Hughenden, have been treating prickly acacia on Eldorado for thirty years and continue to learn and improve techniques. During a field day that he attended in 2018, David learnt that the reason he wasn't getting great results from the application of Graslan™ around areas that stock camp, is due to the high levels of urea (through urine) in the soil. Read more of David and Helen's learnings and adaptations in their management techniques in this GrazingFutures case study: Eldorado Station – Prickly acacia treatment and operational changes (PDF, 500 KB).
Case study: Bendemeer — Prickly acacia treatment and wet season spelling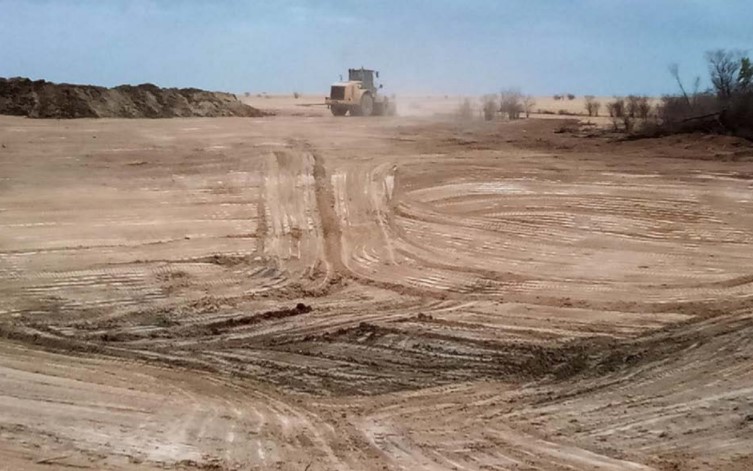 Climatic variability at Bendemeer has presented a number of challenges to the operation a livestock business, including significant droughts and flooding rains resulting in significant losses of stock and top soil. The magnitude of soil disturbance that was observed during the 2019 floods of north west Queensland, meant that the native pasture species were largely drowned leaving the area prone to prickly acacia invasion. As a result, the owners of Bendemeer, Jeff and Debbie Nichols, were forced to remove a significant amount of prickly acacia from 10,000 acres of their prime grazing land. To ensure their efforts were not in vain, Jeff and Debbie have modified their land and herd management strategies to include a strict quarantining period when importing livestock and also to greatly lighten the stocking rate to ensure the country has the opportunity to recuperate from the extensive flood-induced erosion incurred in 2019. Read Jeff and Debbie's story: Bendemeer – Prickly acacia treatment and wet season spelling (PDF, 500 KB).
Case study: Yaralla and Gamarren — NIRS and phosphorus testing, a quality result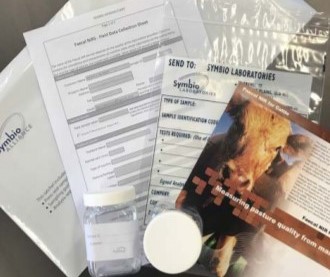 After experiencing their fifth failed wet season and attending a Mulga and Nutrition Workshop in 2017, Ben McKenzie and family of Yaralla and Gamarren near Cunnamulla, decided to invest in Faecal Near Infrared Spectroscopy (FNIRS) and phosphorus deficiency testing of his herd. Ben believes in feeding for a purpose in order to see a return on investment. In this case, the aim was to maintain or decrease loss of body condition through the peak nutritional demand (early lactation) and therefore improve conceptions the following year. The FNIRS and phosphorus testing helped Ben refine and target the phosphorus deficiency and utilise use the high-quality feed available with confidence. To read more about how Ben used the results of the diet quality tests to maximise herd productivity with economic efficiency, click here: NIRS and Phosphorus test – a quality result (PDF, 700 KB).
Case study: Amber Station — Phosphorus supplementation and property development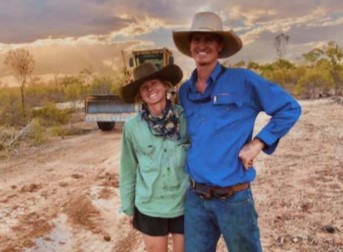 In this case study, Dan and Georgia Slaney of Amber Station share their management plans, including an economic analysis of the expected benefits supplementing breeders with phosphorus and further infrastructure development of the station, will provide. Dan and Georgia also describe the changes they saw in the condition of the cattle in their care once phosphorus supplementation had been provided. Click here to read this excellent GrazingFutures and E-Beef Case Study: Amber Station — Phosphorus and property development (PDF, 1 MB).
Case study: Lara Downs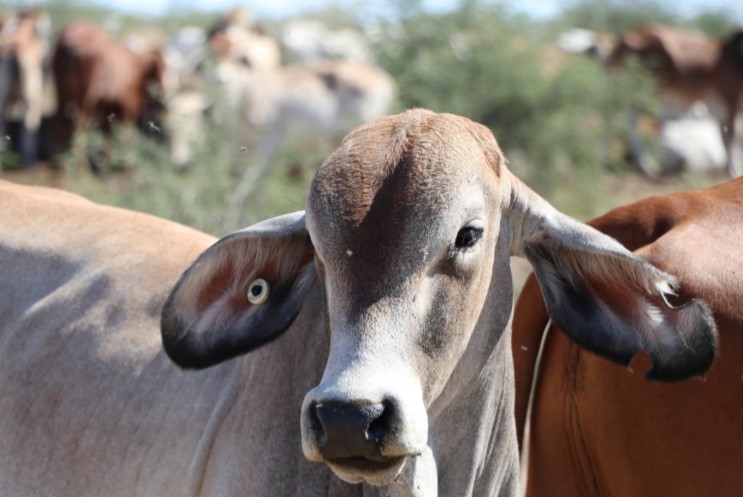 Colin Burnett of Lara Downs, north of Julia Creek, attended a GrazingFutures-NextGen Nutrition and Grazing workshop in February 2017. He subsequently joined the Department of Agriculture and Fisheries led SavannaPlan-BeefSense NextGen mentoring program which focused on improving industry knowledge and confidence in managing grass, people and finances. These experiences led him to successfully apply for, and complete, a Nuffield Scholarship (How the north west Queensland beef industry can survive and prosper (PDF, 1.2 MB)) in 2019.
In June 2019, Colin sat down with Cloncurry Beef Extension Officer, Lindsey Perry, to discuss the operation and thinking at Lara Downs. The Nuffield experience, particularly the New Zealand leg, impressed on Colin the importance of maintaining land, herd, people and finance banks. In the Lara Downs Station Case Study (PDF, 1.5 MB) Colin provides notes about each of these aspects of a grazing enterprise.
Case study: Mulga – your stock, your supplement – with Clynt Johnstone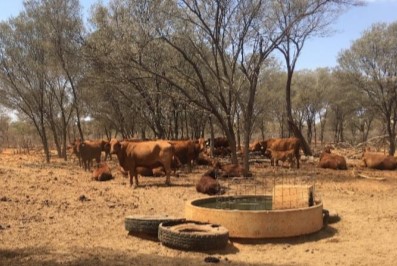 Clynt Johnstone attended the Mulga and Nutrition Workshop in Cooladdi in 2017. Clynt changed his supplement ration to improve cost effectiveness and productivity through growth rates in weaners and reproduction rates in breeders using the knowledge and networks he gained from attending. He sees the importance of understanding the nutritional requirements of his stock, matching it with the feed available and targeting nutritional deficits to maximise production. Read more about what Clynt learnt and the changes he made in this case study (PDF, 560KB).
Case study: "Hope is not a plan" – with Russell and Donna Lethbridge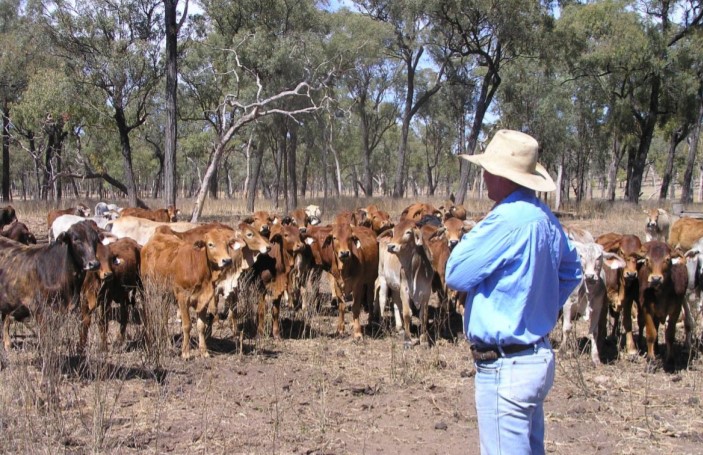 Russell and Donna Lethbridge of Werrington Station has shown that operating a grazing system that mitigates the risk of climate variability does not need to be complex, however it does need to have room for "buffers". To create this flexibility within his grazing business, Russell has made a number of changes over the years to his management practices that has not only increased the business' productivity, but also decreased the breeder mortality rate from 5% to 0.5%. To read more about the management strategies used to achieve this result, download the Werrington Station case study (PDF, 2 MB).
Case study: What we now know in preparation for the next drought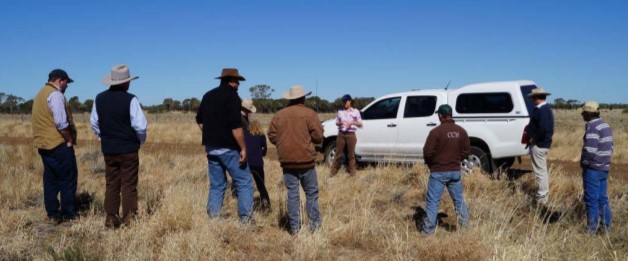 Department of Agriculture and Fisheries (DAF) staff working in the GrazingFutures and Leading Sheep projects have been collecting learnings obtained during drought from affected primary producers since the middle of 2019. This case study features the feedback provided by sheep producers located in the north, central-west and south-west regions of Queensland. The insights that have been kindly shared are inspiring and practical, many of which can be implemented immediately by anyone in the business of grazing livestock. Click here to read the Drought learnings case study (PDF, 400 KB).
Case study: Managing seasonal variation in north-west Queensland with Lindsay and Sally Allan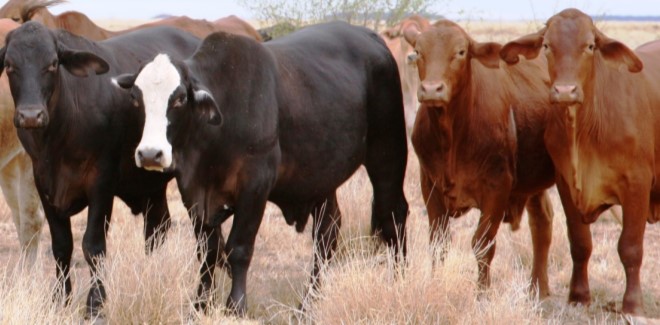 In this GrazingFutures case study, Lindsay and Sally Allan from Longford and Glenholme near McKinlay, share what they have learnt from many years of managing a beef business in the in a variable climate of north-west Queensland. During dry years, Lindsay and Sally recommend maintaining a conservative stocking rate, conduct forage budgets early and act upon the insights gained, wean early, cull older animals and retain younger stock. Learn more about Lindsay and Sally's business, including how infrastructure development is prioritised, breeding management and nutrition management: Managing seasonal variation in north-west Queensland with Lindsay and Sally Allan (PDF, 1 MB).
Case study: Productivity and profitability gains through efficient herd management with Glen and Cheryl Connolly of 'Blanncourt Station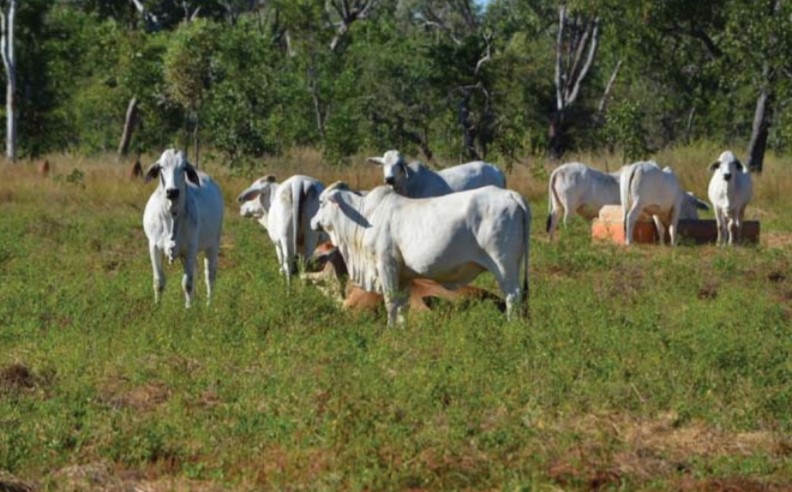 In the Georgetown region of the Queensland Gulf, Glen and Cheryl Connolly are advocates of wet season spelling. Since purchasing Blanncourt (a breeding enterprise of 18,739 ha) 20 years ago, the Connolly family have improved both productivity and profitability by implementing lighter stocking rates, wet season spelling, feeding and/or supplementation programs, cross breeding and pasture improvement.
The Connelly's have a number of property management principles that they implement, with a major management tool being wet season spelling. Effective spelling practices enable the Connelly's to use spelled country for cattle with the highest nutritional requirements. Weaner paddocks are always spelled every wet season to provide fresh paddocks for newly weaned calves. Regular spelled paddocks are prioritised for wet cows with a branded calf.
To read more about Blanncourt, you have the option of reading a short summary: Blanncourt Station — productivity and profitability gains through efficient herd management (PDF, 500 KB), or, the original version featuring the whole of business case study and helpful rules of thumb: Case study – Tackling the tough years (PDF, 1.5 MB).
---
GrazingFutures narratives
Succession planning is not limited to property ownership; it also applies to knowledge transfer from senior extension officers to up-and-coming extension officers located in other regions. The Department of Agriculture and Fisheries acknowledges this challenge, and through GrazingFutures, is providing an opportunity for less experienced staff to travel with, and learn from, knowledgeable and respected long-term extension officers. Read how Extension Officer, Caitlyn Frazer from south west Queensland benefited from two and a half weeks travelling around north Queensland assisting workshop delivery with members of the North and Central Queensland extension teams: GrazingFutures north west Queensland educational road trip (PDF, 1.1 MB).
Going the distance: using technology to get connected
Mobile ZOOM ROOM technology has helped overcome distance, break down barriers and reduce project costs by enabling key industry presenters to join workshops in remote communities – even presenting from their car! Reading how the GrazingFutures team have been using this technology to host events. GrazingFutures Narrative-Zoom as a extension tool (PDF, 500 KB).
Partner spotlight: Collaboration goes both ways for central region Rural Financial Counselling Services and Department of Agriculture and Fisheries teams
GrazingFutures was set up in 2016 to provide a united approach to information delivery and support to graziers in western Queensland. Since commencement, the Rural Financial Counselling Service (RFCS) has proved a crucial and active partner for the project, providing support that contributes significantly to the GrazingFutures project objectives. "Being able to refer clients to each other's services is a key strength of this collaboration" explains GrazingFutures team member Jenny Milson. Read more about the value of the GrazingFutures : Rural Financial Counselling Services partnership: Spotlighting the value of collaboration in the RFCS and GrazingFutures partnership narrative (PDF, 300 KB).
Elements of a successful paddock walk
Paddock walks can be a fun and interactive way of bringing producers together to discuss all topics relevant to their enterprise management, particularly pasture and nutrition. In early 2021, Desert Channels Queensland (DCQ) E-Beef officer, Kate Paterson, and Leanne Hardwick, Department of Agriculture and Fisheries (DAF) organised two paddock walk days through the E-Beef and GrazingFutures projects. In this GrazingFutures narrative, Leanne Hardwick, Beef Extension Officer based in Longreach, discusses the elements that made a series of paddock walks successful. Read Elements of a successful paddock walk (PDF, 650 KB).
Capturing grasshopper impacts across northern and north-west Queensland following wet season rain
Grasshopper populations bloomed following rain in early 2020 in northern and north-west Queensland, resulting in large economic losses for pastoralists in the region. In an effort to understand the environmental circumstances that enabled such an explosion in grasshopper population, DAF GrazingFutures staff conducted a survey of 56 properties, asking questions to identify the species present, damage caused to pastures, anticipated economic loss as a result of destocking due to the decreased pasture availability, and more. Read the survey results in this GrazingFutures case study: Capturing grasshopper impacts across western and north-west Queensland following wet season rain (PDF, 2 MB).
Continuity yields results – a decade of relationship building sees landscape level results
Ten years of extension support with Eddie Maxwell, a beef producer on a family business in the McKinlay Shire, has seen reduction in stock numbers by approximately 1,000 adult equivalents, cull cows turned off earlier and recognising the value of buying good quality hay for their weaning program. Learn about the importance of developing rapport between stakeholders and organisations.  Click here…
Technology highlighted at the 2020 Westech Steer Challenge
The 2020 Westech Steer Challenge will be a step above the usual steer challenge as new technologies are being used to capture data and inform decision-making. All Challenge steers will pass over a walk over weigh unit (donated by the Department of Agriculture and Fisheries) daily, while GPS tracking tags (donated by IDS G Farm) will monitor steer activity and grazing patterns. Diet quality is being measured by Normalized Difference Vegetation Index (NDVI) in conjunction with faecal NIRS (Near Infrared Reflectance Spectroscopy) analysis. Read more…
Collaboration yields results
When Anne Alison started with Southern Gulf Natural Resource Management in 2017, there was very little collaboration between agencies in north-west Queensland. In this narrative, Anne describes how the GrazingFutures project has enabled a united front between not only Department of Agriculture and Fisheries and Southern Gulf NRM, but also Queensland Rural Industry Development Authority, McKinlay Shire Council, Primary Healthcare Network and many other community organisations. To read more of Anne's experience, click here.
Slow start to Mitchell grass
A vast area of north-west Queensland, including the northern Mitchell Grass Downs, extending into the Gulf, was damaged after a monsoon trough flooded the area in February 2019.
General consensus was that there had been a widespread Mitchell grass seedling germination event that followed, providing an opportunity for pasture recovery after a long drought. However, after the 2019 – 2020 wet season graziers have reported poor seedling survival and a slow response of the Mitchell grass to rain in many areas. These enquiries prompted local Department of Agriculture and Fisheries pasture scientists and extension staff to review Mitchell grass growth requirements. Read more about the growth requirements of Mitchell grass tussocks and the recovery of the landscape 12 months on…
Wet season spelling in the Northern Gulf — A method for restoring degraded paddocks and increasing animal productivity
Wet season spelling is the practice of removing cattle from a paddock during the growing season. It is one of the most practical and scalable tools that graziers in north Queensland have at their disposal to manage land more sustainably.
In this narrative, the GrazingFutures Team partners with the E-Beef project to discuss the implementation of wet season spelling demonstration sites including how the results will be monitored over the coming years. Click here to read the Wet season spelling narrative (PDF, 1.5 MB).
Collaborating with Biosecurity Queensland
GrazingFutures project members and Biosecurity Queensland staff based at Longreach have been collaborating to improve efficiencies in livestock inspections, producer enquiries and disease monitoring systems. Read this case study to find out how the collaboration is conducted in north-west Queensland: Collaborating with Biosecurity Queensland (PDF, 500 KB).
---
GrazingFutures event summaries
Maps and apps at Mitchell
Members of the Mitchell Landcare group hosted and attended two on-property Maps and apps events in the Mitchell region in south west Queensland, including Mulga Belt, approximately 30 minutes south of Mitchell, and Havelock approximately 30 minutes to the north. Attendees heard about the advantages of large wall maps for planning infrastructure, as well as the functions of mobile map apps that can be used for not only providing direction and location, but overlays of vegetation management codes. Both events were well attended. Read more about the Maps and apps events in this GrazingFutures event summary: GrazingFutures Maps and Apps at Mitchell (PDF, 638 KB).
Bet on your books
Record keeping is a job most of us dislike, dodge and don't know if we're doing well. However, good records are critical to managing a grazing business well, especially in variable seasons. In this series of GrazingFutures events, held by Rachel Nixon Bookkeeping, attendees in south west Queensland learnt how to streamline their office practices and get their books on the straight and narrow. Read more of what the attendees learnt in this event summary: Bet on your books (PDF, 350 KB).
Introductory Excel for Grazing Workshops
Microsoft Excel is a software program which has broad and valuable application for agricultural businesses, however graziers may not have had formal training or exposure to the program to confidently use it in their business management. In most instances, they have access to the software, but may not keep pace with system upgrades and explore options to utilise the program adequately. The 'Introductory – Excel Spreadsheets for Grazing Enterprises' is a ¾ day hands-on workshop which fills this skill gap for graziers and has proved popular in south west Queensland. Read why more than 140 people have attended this workshop and more than half have since made changes to their business management and data recording: Introduction to Excel (PDF, 244 KB).
Mapping a plan with Queensland Globe and FORAGE in Quilpie
A mapping workshop was hosted by Southern Queensland Landscapes (SQL) Project Officer Lucas Mackie for a Quilpie landholder group back in May 2021. The aim of the workshop was to introduce landholders to the Queensland Government's planning and mapping programs Queensland Globe and FORAGE. Nine local producers attended the workshop and at the completion of the workshop, 33% indicated that they would be making a change to their business as a result of what they learnt that day. Read what the participants learnt and how they intend to implement changes: Mapping a Plan (PDF, 1 MB).
Evening weaner webinars reach more producers
Late in 2019 GrazingFutures South, together with Désirée Jackson Livestock Management, delivered an informative early weaning webinar after information was requested during an industry event as drought conditions were forcing many beef producers to consider weaning earlier than usual. In order to reach a larger producer audience GrazingFutures south provided registrants with the option of either a daytime or evening webinar session.
There was significant interest from within GrazingFutures, Leading Sheep and FutureBeef as to whether providing two screening times (12:30-1:30pm and 7:30-8:30pm) would influence both the number of registrations and type of attendee.  The webinar proved to be very topical with 368 registrations and 187 attending the event when broadcast live; 93 during the daytime session and 94 during the evening session. Read the insights provided by event attendees, including appreciation for the opportunity to choose the timing of participation, by clicking here.
Banking on banks in Morven
It isn't often that actual change of practice that influences environment and business can be attributed to one event. However, this is not the case in regards to the Pasture and Weeds Field Day at Morven in October 2020. All landholders covered in this case study have made changes within six months of the field day, proving the value of the event to landholders. These changes will not only benefit the landholders but will benefit the landscapes of the Morven and surrounding areas well into the future. Landholders have reported that they will continue to utilise the knowledge and skills learnt at this event and will further expand on the changes made into the future. Read the changes that have been made by these land managers: Banking on banks in Morven (PDF, 1 MB).
ReproScan technology to boost breeder performance and profit
Pregnancy testing females on-site allows beef producers to make immediate and informed decisions about the future management of their herd. Non-pregnant (empty) females can be prepared for sale while pregnant females can be segregated into calving window groups to allow targeted nutritional management. Until recently, pregnancy testing via manual palpation has been the only way to determine pregnancy status — a skill that requires regular practice for the operator to remain confident in their conclusions. However, this is no longer the case, with technologies such as ReproScan now available. In August 2020, the Mount Surprise Producer Innovation Hub participated in a two-day training workshop where they learnt to use the ReproScan unit and how the results of pregnancy testing can benefit their beef businesses. Read more about the Reproscan technology to boost breeder performance and profit case study (PDF, 1 MB).
Buzzing with ideas for the application of drones in the beef industry
Using drones to increase labour efficiency has been of interest to many in remote areas of northern Australia for some time, however the knowledge of the limitations of current technologies was hard to find. To meet this need for specific technological information, project staff organised two drone workshops, Cloncurry and Hughenden, presented by Fiona Lake, Director of Rural Drone Academy. The workshops were well attended and supported by local producers, with feedback indicating that the event was highly valued, saving some participants thousands of dollars as a result of buying the wrong type of technology for their intended purpose. Read more of the information shared and the feedback provided by participants: Drone workshops – a GrazingFutures and E-Beef Narrative (PDF, 1 MB).
From surviving to thriving in the North West
During the devastating flood event of 2019, it became apparent to producers and extension staff from different agencies on the ground shortly thereafter, that herd recording systems and financial record keeping procedures needed improving. Enter the "Surviving and Thriving in the Grazing Game" workshops.
Initially, the "Surviving and Thriving in the Grazing Game" workshops were to focus on improving financial literacy and record keeping skills of beef businesses, however further discussion and brainstorming identified that skills around communication and succession planning would also be of assistance to the target audience. The workshops held in 2020 proved to be enormously successful, resulting in five additional workshops scheduled for 2021. Read more about these events: Surviving and thriving in the North West (PDF, 500 KB).
Skills development and cross collaboration in Cloncurry
The GrazingFutures team and delivery partners QRIDA and Southern Gulf NRM, recently organised a Breedcow-Dynama herd modelling workshop to upskill extension staff and relevant industry professionals to use the Breedcow package, and in doing so, consider strategies to extend key messages from the "Northern Downs Beef production systems report". All attendees rated the day very highly (at least 9 out of 10), indicating they learnt a new and valuable skill from the event. The Breedcow-Dynama workshop marked the end of what turned out to be a very busy and productive year for the NW Beef Extension team and partners. Read more about this event: Skills development and cross collaboration in Cloncurry (PDF, 400 KB).
Ag Advisors' Breakfast
Graziers access information relevant to their on-farm management from a variety of service providers including stock and station agents, agronomists, bankers, accountants, NRM officers, financial planners, stockfeed retail and insurance brokers. Producers report that, on some occasions, advice from these sources may not match with best management practice or research results and are often conflicting in nature. Therefore, a pathway is needed for industry advisors to access up-to date research and best management practice information and/or identify when/where to refer clients when an enquiry is outside their area of expertise.
The Ag Advisor's Breakfast provided an informal arrangement for advisors to gain technical skills and knowledge, as well as network with other businesses and advisors who service local producers. Read more about the Ag Advisors' Breakfast at St George (PDF, 200 KB).
Getting a better handle on phosphorus deficiency
Phosphorus is essential for the growth of cattle and for lactating cows, requiring 1g P for every litre of milk produced. Deficiency is caused by low P levels in the soil and presents through poor weight gain from reduced appetite, higher mortality, lower fertility in breeders, chewing of bones or items like sticks and wire, stiff gait and in severe cases, easily broken bones or deformities. Read how the GrazingFutures team helped beef producers in north-west Queensland to evaluate the level of phosphorus deficiency of the breeders in their herd. Read more…
Women of wealth
In May 2020, the South GrazingFutures team was approached by Quilpie producer Annabel Tully of 'Bunginderry' who was interested in establishing a dedicated producer business group for her region. Annabel saw the need to streamline her business management and office efficiency during a break in the season to ensure she was upskilled and prepared for when the dry returns. The idea was to invest time and energy now getting her books sorted and establishing good business management practices, so when necessary she could spend more time out in the paddock managing drought. Establishing a dedicated group of local producers also meant they could form a support group, learn off each other and share their experiences – both good and bad. Click here to read the Women of wealth (PDF, 523 KB).
Buzzing with ideas for drones in beef production
Two drone workshops were held in western Queensland in October 2020. Hosted by DAF and Southern Gulf NRM GrazingFutures staff, and presented by agricultural drone expert Fiona Lake, the workshops discussed rules and regulations, uses of drones in agriculture and flying drones safely on stations. Key discussions held during the workshops included purchasing the right drone for the job, the limitations of current technology and the effect the weather conditions have on drone performance. To read a short summary from the Cloncurry and Hughenden workshops, click here.
What are my options? — Breedcow and Dynama workshop, Julia Creek
Breedcow and Dynama is a herd budgeting software package designed to be used to plan, evaluate and improve the profitability of extensive beef cattle enterprises by allowing users to model different scenarios for their cattle enterprise. In June 2019, GrazingFutures extension staff, economist Fred Chudleigh and nutritionist Dr. Maree Bowen, collaborated with Southern Gulf NRM and producers in their Profitable Producer Group (National Landcare Program) to deliver a Breedcow and Dynama workshop to five grazing businesses near Julia Creek. The following narrative, describes the experience of the participants and the value the workshop provided to their businesses. Click here to read the Breedcow Dynama (PDF, 120 KB).
North Queensland takes on Evoke Ag 2020
Evoke Ag, the premier ag-tech conference for Australasia, is an annual event where start up and established companies display their latest tech offerings and producers, researchers and agricultural professionals alike discuss the issues facing the industry and what the future holds. To gain exposure to presenters and technology that remote Australia has little access to, the Department of Agriculture and Fisheries facilitated the partial funding of Evoke Ag attendance for seven producers through the Smart Farms Partnership funded E-beef project, led by Southern Gulf NRM. Read the attendees' expectations, immediate impressions, ideas for implementation and perceived community benefits in this GrazingFutures narrative: North Queensland takes on Evoke Ag 2020 (PDF, 1 MB).
Basalt Bash and Beauty
Basalt Bash & Beauty is an event for rural and remote women, bringing them together to strengthen social cohesion, reduce the sense of isolation, encourage conversations on key issues and common themes, and improve mental health and wellbeing.
At this event women develop skills and are provided with links to assistance and industry related updates and information. The Basalt Bash provides a unique opportunity for rural and isolated remote women to build networks, relax and have a few fun days together. Over the years the event has grown and evolved, with more and more women coming along to share their stories, experiences and challenges of life in far North Queensland. Click here to read the Basalt Bash and Beauty case study (PDF, 1 MB).
Interstate collaboration at the Calf Loss Forum at McKinlay
Producers, industry and interstate government departments came together to discuss recent research and practical prevention strategies of calf loss on the downs near McKinlay on 8 October. Read more…
Begonia beef business analysis
Tim Moravek and Daisy-May Denny (DAF Agricultural Economists), presented the "Profitable Decision Making" workshop at the Begonia Sports Club.  Workshop attendees were taken through a process of how to economically analyse their current operation and were shown how to test available options to improve profitability. Read more…
Technology for a better farm
GrazingFutures held a 'Technology for a better farm' field day 27 July 2019 showcasing one of the project's walk over weigh (WOW) systems in use in western Queensland. The field day was held at 'Echo Hills', Roma where the technology has been in use since October 2018 with the assistance of livestock managers Anna and Anthony Dunn. Read more…
---
GrazingFutures projects
Advancing Beef Leaders
The Advancing Beef Leaders (ABL) program is a tailored leadership and professional development program for emerging producer and community leaders. Delivered by a partnership of DAF extension staff and private consultants, ABL aims to skill and enthuse those who wish to become more involved in community and industry organisations. ABL overlays relevant technical skills with appropriate self-development; encouraging participants to build stronger networks and spark the confidence needed to contribute and influence.
Walk over weighing in western Queensland
Walk over weighing (WOW) technology has been around for some time now and has seen steady on-farm adoption throughout parts of northern Queensland. However, to date, the technology is not widely used in the south-west of the state. Given the highly variable climate of western Queensland, the implications of getting real-time data offered by this technology could have big benefits such as – the potential to turn off stock sooner, conserve pasture or identify the need to supplement before visual signs of stock condition loss.
Technology highlighted at the 2020 WestTech Steer Challenge
The 2020 competition will be a step above the usual steer challenge as new technologies are being used to capture data and inform decision-making. All Challenge steers will pass over a walk over weigh unit (donated by the Department of Agriculture and Fisheries) daily, while GPS tracking tags (donated by IDS G Farm) will monitor steer activity and grazing patterns. Diet quality is being measured by Normalized Difference Vegetation Index (NDVI) in conjunction with faecal NIRS (Near Infrared Reflectance Spectroscopy) analysis.
Getting a better handle on phosphorus deficiency
The 2020 MLA Phosphorus Challenge ran in April and May across North West Queensland to test for phosphorus (P) deficiency. Beef extension staff from the Queensland Department of Agriculture and Fisheries (DAF) collected samples across six participating properties.
---
GrazingFutures webinars
Better forecasts, better production – May 2020
Many producers are surprised to learn that they have been reading the weather forecast incorrectly. It can lead to misinterpretation, confusion, and disappointment when you do not receive the rain you thought you were forecasted to get. Being able to forecast correctly will allow you to prepare your production system better for the season to come. Better forecasting leads to better preparation and improved production.
The Department of Agriculture and Fisheries GrazingFutures team, together with Dr. Chelsea Jarvis from the Northern Australia Climate Program (NACP) have produced a practical and informative south west Queensland climate focused webinar. This webinar provides information and examples for Murweh, Paroo, Quilpie, Bulloo and Maranoa Shire regions.
To find out more about the Better forecast better production webinar including the feedback received, click here.
Making sense of early weaning — January 2020
Weaning is one of the most effective management tools available to manage your breeder's body condition. Removing the need to produce milk for a calf in the early dry season is equivalent to providing the breeder with a supplement of up to 2 kg of grain or 3 kg of fortified molasses every day.
Early weaning, when done effectively, can result in better overall breeder condition, higher conception rates and lower costs of breeder supplementary feeding. Early weaning is practiced most commonly in drought affected areas and refers to the weight (age) of the calf and not to the time of muster.
The Department of Agriculture and Fisheries GrazingFutures team, together with Désirée Jackson, have produced a practical and informative early weaning presentation.
Find out more, here.
Ongoing drought management decisions
There has been relieving rain for some, flooding rain for others and no rain for many more!
In this presentation, join GrazingFutures and Ian McLean (Bush Agribusiness) who will equip you with some of the key tips for making good decisions for your business in the variable western Queensland climate.
Find out more, here.
2017 summer rainfall outlook with Roger Stone
In this webinar Professor Roger Stone (USQ) discusses the outlook for the upcoming 2017 wet season for the Queensland Central West in particular, and the factors affecting the general predictions and outlooks across Queensland.
---
Additional information
GrazingFutures — promoting a resilient grazing industry (30 August 2019)