Cassava Project
Cassava is cultivated throughout the tropical regions of the world and is an important tropical crop for human consumption, biofuel production and livestock feed throughout Asia, South America and Africa. Cassava is a crop which has been grown in Australia, but no broad-scale commercial industry has been established to date.
There has been a significant research effort to develop finishing systems for north Australian beef cattle, to provide options to meet the new proposed abattoirs in northern Australia and to prepare Brahman cross cattle for live export to Indonesia. Cassava is very suitable to be grown in marginal areas with adverse climatic and soil conditions. As its leaves contain high levels of protein (ca. 21 per cent), and the energy value of its edible starchy tuberous root is comparable to feed grains, it is an attractive feed for livestock. In Indonesia, growth rates of 1.0-1.2 kg per day have been achieved with local cattle and in the order 1.4 kg per day as an ingredient in feedlot rations. Live weight gains of 0.85-1.1 kg per day were measured in previous studies conducted in Queensland when sorghum content of feedlot rations was replaced with cassava.
The Northern Territory Department of Industry, Tourism and Trade (NT DITT) is collaborating with the University of Queensland (UQ) on a project which has been funded by the Australian Centre for International Agricultural Research (ACIAR) to generate practical rations for diets and to test these in villages and medium-scale feedlot enterprises in Indonesia. In this project, the NT DITT is responsible for conducting an experiment to measure the liveweight gain response of Brahman steers to increasing levels of cassava tuber with two different protein sources (cavalcade hay and soya bean meal). This study is being conducted at the Katherine Research Station where staff will be responsible for growing, harvesting and treating cassava products so they can be fed to livestock.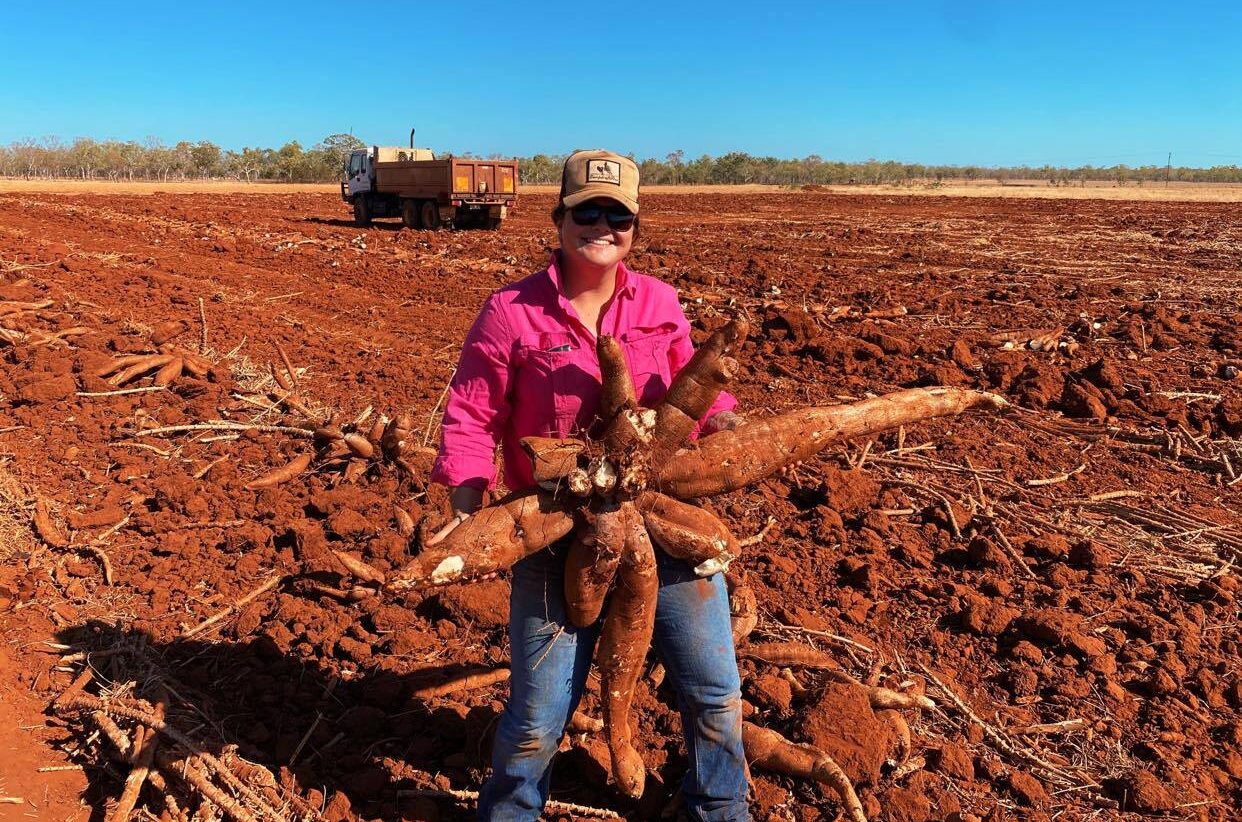 Objectives
By December 2020, the project will have:
Measured the liveweight gain response of Brahman steers to increasing levels of cassava bulbs with two different protein sources.
Trial design
Ninety Bos indicus weaner steers (180 kg average live weight [LW]) were allocated to one of 10 nutritional diets (9 steers/diet) to evaluate develop a growth response growth curves for Brahman steers fed diets containing increasing amounts of cassava tuber with two alternative protein sources. The base cassava mixture included: 97 per cent cassava tuber, 2 per cent urea and 1 per cent trace mineral mix (on a dry matter basis) and was included at either 31, 38, 45, 55 or 62 per cent of the diet. The remainder of the diet was either soya bean meal or cavalcade hay (Figure 1).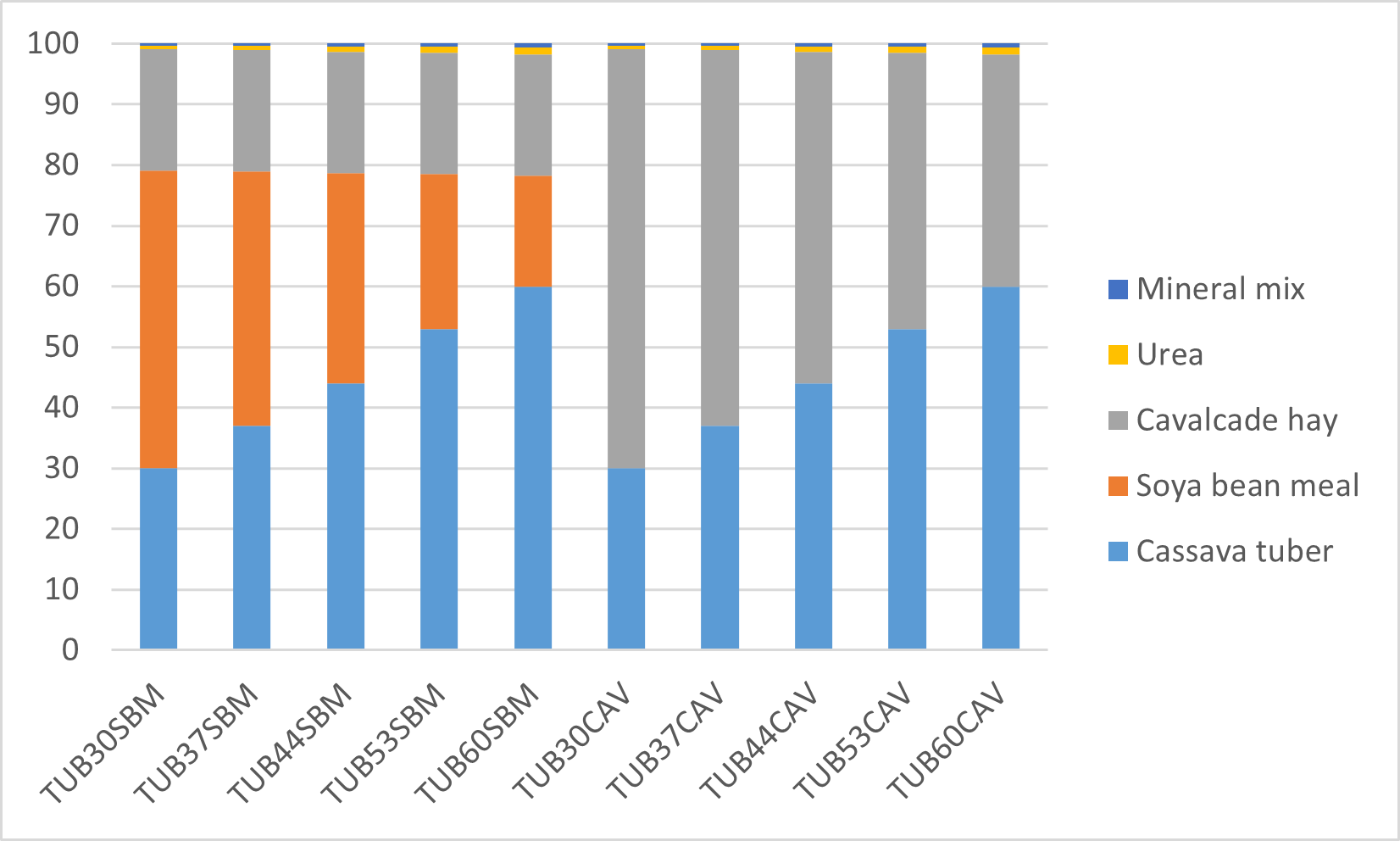 Where:
CAV = cavalcade hay which tested at 15 per cent crude protein
SBM = soya bean meal estimated at 45 per cent crude protein.
Treatment diets will be fed at 0.5 per cent of LW initially and incrementally increased by 0.5 per cent LW every three days until day 15. After that, cassava rations will be fed ad libitum until the end of the experiment (77 days). Treatment rations and hay intakes will be measured daily. LWG was calculated by the difference in LW between start and end of the experiment, which was recorded following a 12 hour feed and water curfew. Rumen pH will be measured before feeding on the final day of the experiment.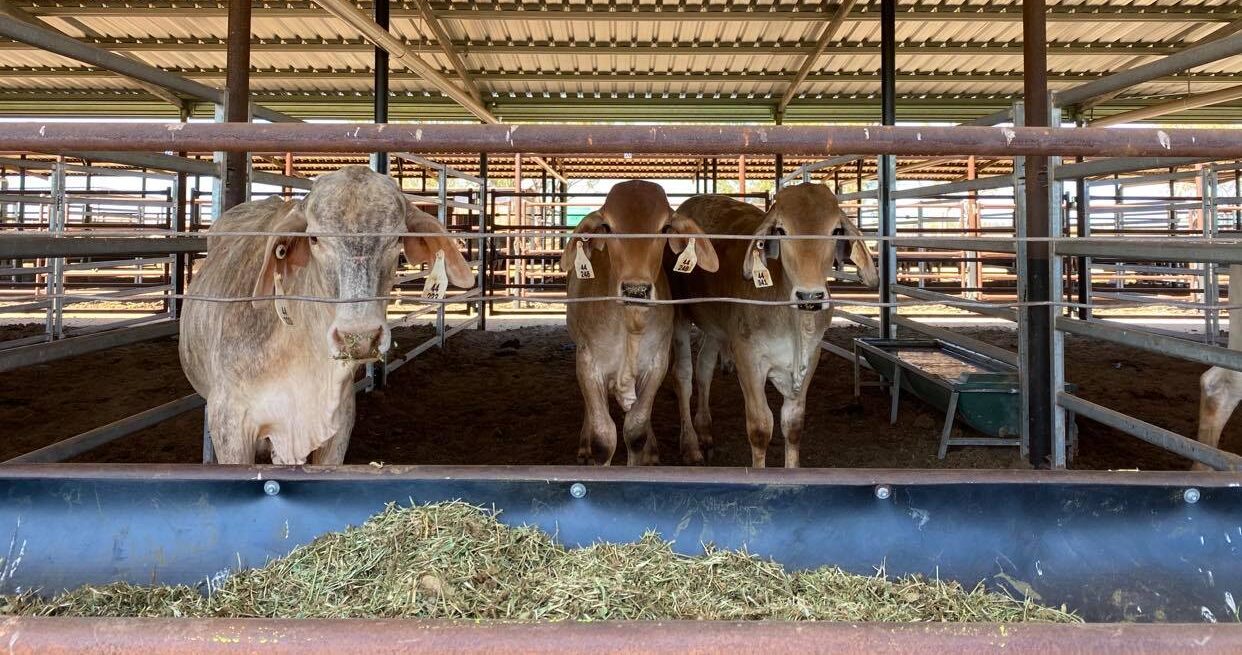 Project details
The trial period is due to conclude in 2020 with the final report prepared in 2021.
Additional information
NT Country Hour Interview March 2020 (starting at 19:25)
NT Country Hour Interview January 2019 (starting at 15:54)
For more information about the project, contact Kieren McCosker, Livestock Scientist, Northern Territory Department of Industry, Tourism and Trade on (08) 8973 9771.